Tuesday, April 3rd, 2012
Roop warms up for victory over Indians
By Ryan Hines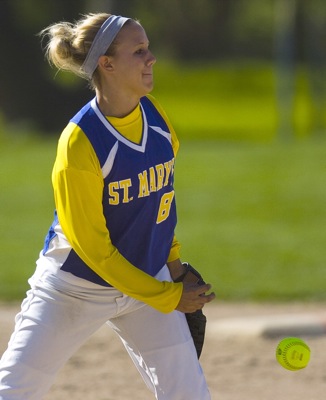 ST. MARYS - Pitcher Lexi Roop struggled to get loosened up prior to St. Marys' softball matchup against Fort Recovery at K.C. Geiger Park on Monday.
Roop overcame her pregame struggles and went on to pitch a complete-game gem in the Roughriders' 6-1 victory over the Indians.
The Roughriders' junior hurler allowed one run on seven hits and struck out 11 Fort Recovery batters, including at least one in each inning.
"She told me that she didn't feel like she had a lot of energy and pop on the ball when she was warming up before the game," said St. Marys' head coach Sue Grothause. "She did a good job with her location tonight and her curveball was really working well. If her curveball is on and she can consistently find her location, she can be successful and that's what happened tonight."
The opening inning was a rocky one for Roop as she surrendered a lead-off single to Fort Recovery's Beca Tobe, who later gave the Indians a 1-0 after an RBI fielder's choice off the bat of Taylor Guggenbiller.
The 1-0 lead for the Indians was short-lived as St. Marys took advantage of three Fort Recovery errors and went on to score four unearned runs in the first two innings.
"We got up early on them but then a few mistakes on defense put them ahead and we were never able to recover," said Fort Recovery's head coach Marie Osterholt.
St. Marys' 4-1 lead was in safe hands with Roop on the mound as she retired 10 straight batters from the second inning to the fifth inning.
Fort Recovery had a great shot to get right back into the game during the sixth inning when Jackie Fullenkamp, Taylor Guggenbiller and Haley Knapke hit back-to-back-back singles to load the bases with one out. Roop wiggled out of the jam when Fort Recovery's Karissa Will ripped a line drive to Kiley Schamp in centerfield and the Roughriders' senior then fired a dart to the plate to prevent courtesy runner Cassidy Rammel from scoring. Rammel didn't slide on the play and was tagged out by St. Marys' catcher Paige Dicus after a one-hop throw from Schamp.
"We are still a pretty young team that is still trying to figure out or lineup and we struggled on offense today," said Osterholt. "It just seemed that we could never get that big hit when we needed it. We got a few hits and had some runners on base, just couldn't deliver the big hit in those situations."
Grothause was quick to point out the importance of the doubleplay to end the sixth frame.
"That was a big defensive play for us. Kiley has a strong arm and she made a great throw to complete a double play," said Grothause. "It was 4-1 at that point and we needed that."
Dicus and Schamp then connected for RBI singles in the seventh inning for a pair of insurance runs. Dicus had two singles and two RBI while Schamp had a single and a double to pace the Roughriders' offense. Seven different players had singles for Fort Recovery.