Monday, April 30th, 2012
Restoration begins after fire
Crown hopes to save historic facade
By Margie Wuebker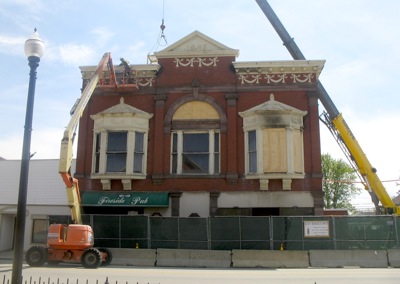 NEW BREMEN - Restoration work has begun on the historic opera house damaged by a fire two months ago.
H.A. Dorsten Inc. of Minster began work on the 1895 Boesel Opera House, owned by Crown Equipment Corp., last week after structural engineers gave the go-ahead.
"It does appear we will be able to save the shell," Crown official Randy Niekamp said this morning. "Cleanup work has started, but we have not finalized plans for the interior at this point."
A Feb. 25 fire heavily damaged the brick building that housed the Fireside Pub restaurant and Que's Barber Shop. Keith Quellhorst, owner of Que's, has relocated to another location in the community. Misty Kuck, owner of the restaurant, has not announced any future plans.
Sean Dorsten, president of H.A. Dorsten, and project engineer Steve Elsass said the building work will be done in phases, beginning with the ongoing cleanup.
Workers then will install new wood trusses, sheeting and roofing to "button up" the building and prevent further damage from the elements. That phase is expected to take 2 to 2 1/2 months.
Niekamp said part of the cleanup phase involved the demolition of a one-story brick building west of the opera house. The building formerly housed a men's clothing store and later a physician's office before Crown purchased the site.
"Demolition of the building gives us more options as restoration moves forward," Niekamp added.
He said one option may involve uncovering windows that were bricked over on the west side of the old opera house.
The Ohio State Fire Marshal's Office determined the cause of the fire to be accidental in nature with the exact cause listed as undetermined.
The blaze reportedly started between the first and second floors in the bar area of the restaurant. Both businesses were closed at the time of the fire.
Part of the second floor collapsed onto the restaurant's walk-in cooler, causing some floor joists to give way.
The blaze drew fire departments from New Bremen-German Township, Minster-Jackson Township, St. Marys Township, Chickasaw, St. Marys and Wapakoneta. Nearly 375,000 gallons of water were used in a span of approximately two hours - making the blaze one of the largest in recent years.
Shane Cartmill, public information officer for the fire marshal's office, initially labeled the building, located along West Monroe Street (state Route 274), as destroyed but deferred on that ruling after learning Crown planned to bring in experts to assess the structural integrity of what remained.