Friday, April 6th, 2012
Teen critical after car-semi crash
By Shelley Grieshop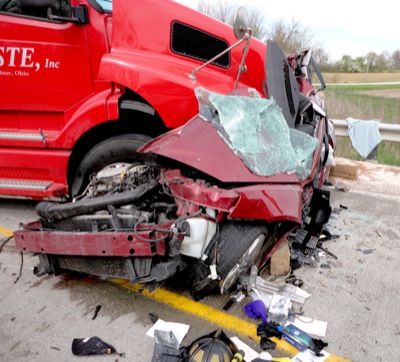 FORT RECOVERY - An area teen was seriously injured late Thursday afternoon when her car collided with a semi on state Route 49, south of the village of Fort Recovery.
Janelle J. Schwieterman, 17, 2352 Sharpsburg Road, was listed in critical condition as of this morning at St. Rita's Medical Center, Lima. She was taken to the hospital by a LifeFlight helicopter after she was extricated from her car near the intersection of state Route 49 and Fox Road.
The semi driver, Jason E. Miller of DeGraff, was taken by squad to Mercer County Community Hospital, Coldwater. He was not listed as a patient this morning, a spokeswoman said.
The two-vehicle crash was reported to Central Dispatch at 3:52 p.m. According to the Mercer County Sheriff's report, the Fort Recovery High School junior was traveling westbound on Fox Road when she failed to yield at the stop sign and drove into the path of the southbound semi. The rig struck the passenger side of Schwieterman's car.
Both vehicles sustained severe and disabling damage.
Schwieterman also was involved in a single-vehicle accident just a few minutes earlier about a mile away on Sharpsburg Road, west of St. Peter Road. She reportedly was driving northwest when she lost control of a 2001 Ford Taurus, veered off the right side of the road and hit an electric pole but was not injured.
Authorities believe Schwieterman was transported by a friend or family member to her home where she retrieved a 2008 Pontiac and was driving back to the accident scene when the second crash occurred.
Deputies continue to investigate both accidents. Alcohol is not suspected.