Friday, April 6th, 2012
Bulldogs sweep Wildcats to remain perfect in WBL
By Gary R. Rasberry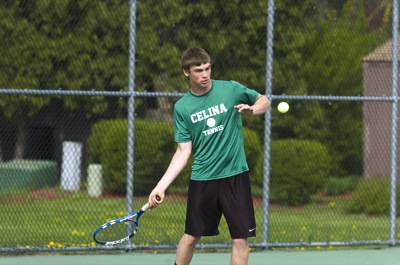 CELINA - The Celina boys' tennis team maintained a perfect mark in Western Buckeye League matches with a 5-0 win over Bath on a windy and chilly Thursday afternoon at the Tennis Complex.
The Bulldogs have not lost a match in league play this season while improving to 3-0 while the Wildcats (0-2) are still winless in WBL matches.
"I thought we were hitting the ball well," said Celina's coach Jan Morrison. "I think we're playing pretty good tennis. Hopefully, we can continue to do that."
In four of the five wins, Celina posted four 6-0 sets and dropped just five games overall.
Celina's Aaron Seibel posted the only 6-0, 6-0 win of the day in second singles against Matt Holt.
Jeremy Walls was victorious 6-1, 6-0 at third singles against Garrett Renner while Alex Seibel won his first singles match 6-0, 6-2 over Jason Lauf.
Celina's first doubles team of Isaac Elston and Kris LeJeune won 6-1, 6-1 over Carder and Corbin Schmitt.
The only close match came at second doubles, as the Celina tandem of Hagan Kriegel and Keaton Mohler faced Zach Grapner and Nick Cunningham. The Bulldogs were nearly taken to tiebreaker before winning the first set 7-5. Set two was much easier for the Bulldogs' duo, winning 6-1.
"They started out slow, but were able to figure it out," said Morrison of the second doubles' team. "I think the wind was bothering them a little. They got better as they went, which is a good thing to see."
Celina also won a trio to junior varsity doubles matches as Brandon Casto and Joel Weitz, Justin Hoffman and Zain Khokhar and Tucker Laux and Nathan Lutz earned victories.
The Bulldogs are back at home on Monday hosting Lima Senior before traveling to Ottawa-Glandorf on Tuesday for a WBL match.