Friday, May 4th, 2012
A mission to destroy
Lake Campus students competing at national robotics event
By Amy Kronenberger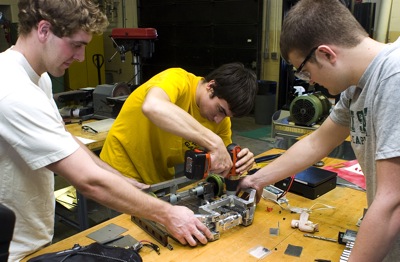 Weeks of planning, scheming and intricate building have led to a competition to destroy for three local engineering students.
Jordon Coffman, John Neiferd and Jared Runyan, juniors at Wright State University-Lake Campus, on Saturday will compete at the national robotic championships in Indianapolis, Ind. The students will pit their battle-bot against others built by students from around the nation.
The team with the last robot standing is named national champion.
"When we first started the process, we looked online for ideas," Coffman said. "We looked to see what designs and weapons worked best, and then put it into technical terms and tested it to see how well it could hold up."
Coffman, a 21-year-old Rockford native, said he and his team worked well together designing their robot. The building process took about six weeks.
"A lot of it went smoothly, but each person has different ideas, and there are so many possibilities, researching and coming up with a final design was difficult," he said. "Then when we found something we all really liked, it would be too heavy."
The competition, called a "destruction-driven face-off of incredible machines" by the National Robotics League, has a robot weight limit of 15 pounds. Competitors need to choose building materials carefully.
Neiferd, 22, Van Wert, said they used an aluminum shell in their original design. He serves as the team leader, technical researcher, fabricator and overall project manager.
"Steel is pretty hard to work with so we went with a really hard grade of aluminum," he said.
The initial design was a basic box with a 45-degree ramp on the front to act as a flipper. On the back, they attached a gear cutter with sharp teeth to cut into the competition.
The team competed at regionals in Dayton in March and weren't satisfied with the outcome.
"Our design broke ... we looked at what happened there, looked at where it had failed and redesigned it," Coffman said.
They replaced the shell with stainless steel and built an aluminum tubing cage.
"We're actually getting really close to the 15-pound limit again so we may have to cut some holes into the stainless steel to lighten it up," Neiferd said.
Their teacher and mentor, Dennis Hance, mechanical engineering lecturer, encouraged them to work through their mistakes and register for national competition. If they succeed in preliminary rounds on Saturday, they will advance to the finals on Sunday.
Coffman, the team designer, fabricator and technical wiring specialist, said the main lessons he learned were time management and teamwork.
"And in the end, quality is better than quantity," he said.
Neiferd agreed.
"Working with your teammates is very important," he said. "You can't do this kind of thing on your own."
Runyon, 22, Ohio City, served as the team fabricator, test manager and structural designer.
Hance said the competition is an important learning experience. The students design, construct, test and compete with their robot and then are required to develop an engineering report using the research, computations, prototypes, performance testing and more. This is the first time Lake Campus students have competed.
"Through the process of robot-building, students' imaginations are captured as they design, build and compete with their own robotic creations," Hance said. "And through this hands-on effort, students gain practical knowledge of science, technology, engineering and math - all essential skills for manufacturing."