Wednesday, May 9th, 2012
Redskins advance to district tournament
Division IV Sectional Softball at New Bremen
By Mark Ruschau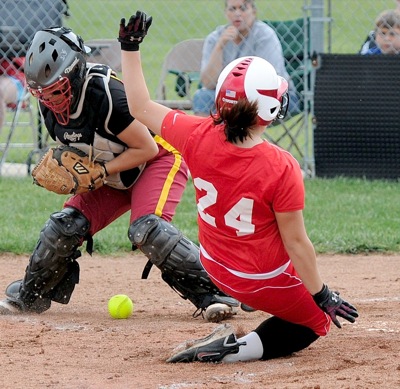 NEW BREMEN - Tuesday afternoon's Division IV sectional final between the New Bremen Cardinals and the St. Henry Redskins was a game of opportunities.
The Redskins took full advantage of their chances, both offensively and defensively, to capture the sectional championship with a 9-3 win.
St. Henry (13-5) advances to the district tourney next Tuesday night at Wapakoneta High School against the Ada Bulldogs while New Bremen bows out of the postseason with a 10-12 record.
St. Henry got the scoring underway in the opening inning as Ashley Heitkamp reached on an infield hit and then stole second and third before scoring on a bounce out by Kenzie Kessen.
New Bremen tied the game in the second but squandered a golden opportunity to take the lead. Taylor Carter singled to start the inning and Megan Brandt then reached base safely on a throwing error by pitcher Sydney Rindler with Carter taking third. Kirsten Miller plated a run with an infield hit and Brandt reached third. Rachel Parker then bounced a pitch back to the mound and Rindler fired home to nail Brandt at the plate and Miller was then thrown out at third by catcher Jenna Watercutter for the third out.
In the third, New Bremen loaded the bases with one out as Haley Moeller and Sydney Goens walked and Julie Brown reached safely on an infield hit. Rindler got out of the jam by inducing Carter to line out to short and Chelsea Russell to fly to shallow left.
"This was a game of opportunities and we did not take advantage of them all," said New Bremen's coach Craig Griesdorn. "We made some mental mistakes on the base paths that took us out of an inning and then we had bases loaded and we just did not come up with the big hit."
St. Henry took the lead for good in the bottom of the second inning by taking advantage of New Bremen's miscues. Watercutter was hit by a pitch and then went to second on a sacrifice by Sarah Moeder before advancing to third on a single by Rachel Lefeld. Watercutter then scored on a bounce out by Ally Mikesell. Darcy Orick then plated Lefeld as her groundball was thrown away by Brown, with Orick taking second on the throw home. With Heitkamp at the plate, Orick took third on a wild pitch. Then on ball four, Heitkamp raced for second, which drew a throw and allowed Orick to score for a 4-1 Redskins' lead.
The Redskins blew the game open by scoring four times in the fourth inning. Lefeld and Orick singled around a Mikesell pop out. After Orick was forced at second for the second out, Kessen reached on a error and Lefeld scored. Marie Stammen then hit a ground ball to deep short that was smothered by Moeller, who was unable to make a play and Heitkamp crossed home plate. Michelle Bruns drove in the final two runs with a single to leftfield.
"We put the ball in play today and we came up with the big hit when we needed it," said St. Henry's coach Melissa Starkey. "What really got us going today was our baserunning. We made some great decisions on the bases. We were aggressive, we have been working hard on it all year and it came together today. What better day than today for that to happen.
"We were fortunate today. We were able to get out of some big innings," continued Starkey. "Syd (Redskins' pitcher Sydney Rindler) was up and down a little bit tonight, but the defense came through and she was able to get them to hit the ball where she wanted."