Thursday, May 10th, 2012
Minster and St. Henry victorious by shutout
Division IV Baseball Sectional at Minster
By Mark Ruschau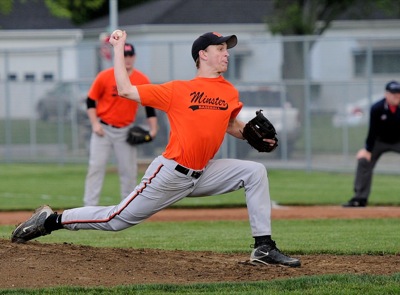 MINSTER - Top-seeded Minster rode the right arm of senior Austin Knapke and the Wildcats produced one big offensive inning to defeat the Fort Recovery Indians 10-0 for a five-inning win in the finals of the Division IV sectional baseball tournament upper bracket on Wednesday at Hanover Street Park.
During Wednesday's nightcap, the St. Henry Redskins benefited from a strong pitching performance by senior left-hander Trey Rutschilling to upset second-seeded New Bremen 6-0.
Minster (20-6) and St. Henry (13-11) advance to district play next Wednesday at Veterans Field in Coldwater. The Wildcats will battle the winner of the Spencerville-Ottoville matchup with first pitch scheduled for 4:30 p.m. The Redskins will take on Crestview during the second game scheduled for 6:45 p.m.

Minster 10, Fort Recovery 0 (5 innings)
With Minster's starting pitchers Adam Niemeyer and Doug Huber unavailable due to injuries, veteran Wildcats' coach Mike Wiss turned to Knapke and he responded with a dominant performance. Knapke allowed just one baserunner - a two-out walk in the first inning - and pitched a five-inning no-hitter.
Knapke struck out two Indians and threw just 56 pitches, 38 for strikes. Knapke was backed by an errorless performance by his teammates as he induced seven flyball outs and six groundball outs.
"Through the course of the last two weeks, we've had a couple injuries, Adam Niemeyer with an elbow and last night Doug Huber took a ball off his right thumb," said Minster's coach Mike Wiss. "I do not want to take anything away from Austin when I say he is our number-three pitcher. He has been throwing some of the best baseball the last three weeks."
The Wildcats gave Knapke all the run support he needed by scoring five times in the second inning. With one out, Ethan Wolf doubled before Drew Elson and Andrew Knapke walked to load the bases. Jay Eilerman plated the first run with a sacrifice fly and Austin Knapke followed with an RBI single to put Minster on top 2-0.
Niemeyer, playing the role of designated hitter, then lofted a flyball to leftfield that was dropped by Indians' Gabe Riegel for a two-base error that plated two more runs. Devon Poeppelman then drove in the final run of the second inning with an RBI single.
"I was happy that we put the ball in play harder today. We lost to Marion Local last night (Tuesday) and I was very disappointed and I let them know it," said Wiss. "One of the goals coming into the season is to get off our field with a sectional title and we were able to do that."
"We did not play our best game tonight," said Fort Recovery's coach Jerry Kaup. "The young man from Minster pitched well and you have to give him credit. Defensively you have to make plays and we did not do that and the good teams take advantage of that. They were able to come up with the big hits when they needed them."
Eilerman, Austin Knapke, Andrew Knapke and Poeppelman each had two hits for Minster.
St. Henry 6, New Bremen 0
Rutschilling, who had been battling back issues for the better part of the spring, threw a gem for the second consecutive outing on the mound. After striking out 12 in a win over rival Coldwater last week, the senior left-hander threw another gem against New Bremen.
Rutschilling scattered six hits and struck out 13 Cardinals in throwing the complete-game shutout, despite having to work out of jams in the first three innings.
"That is two tournament games and two shutouts by our pitching staff," said St. Henry's coach John Dorner. "Trey was able to concentrate and make the pitches that he needed to make. When he got into trouble he was able to step up and make the pitches that he needed.
"In midseason Trey was battling some back issues so we shut him down for about three weeks and that rested his arm," continued Dorner. "He is a strong kid and he is a competitor. He was able to crank it up when he needed it."
Following the first three innings, Rutschilling settled down and got stronger as the game wore on and allowed just two baserunners over the last four innings.
The Redskins gave Rutschilling all the run support he needed by scoring four times in the third frame. Briar Hollomon reached on a two-base error and Caleb Heitkamp followed with an RBI single. Darin Schwieterman then reached base safely on a bunt single before Alex Post singled to load the bases. Chase Kessen made the score 2-0 with a sacrifice fly and Devin Froning followed with the big hit of the rally, a two-run single.
The Redskins added single runs in the fifth and seventh innings.
Froning had two hits to lead St. Henry's offensive attack while Aaron Clune contributed a pair of hits for New Bremen.