Monday, May 14th, 2012
Local cadets take to the sky
Civil Air Patrol trains in Montezuma
By William Kincaid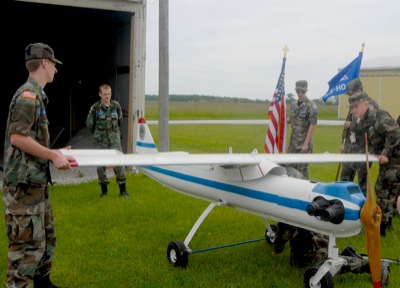 MONTEZUMA - Members of the Grand Lake Squadron Civil Air Patrol - a local force of cadets 12 to 21 years old - took the helms of airplanes on Saturday and practiced turns, climbs and descends.
Captain Joseph Mosher, an orientation flight officer, and other FAA-licensed pilots with Ohio Wing, the state Civil Air Patrol affiliate, flew airplanes from Lakefield Airport to airports in Defiance and Bucyrus, allowing the cadets to practice maneuverers on the way.
Cadets are eligible to receive 10 pilot-assisted rides, five in a glider and five in an airplane, during their span with the Civil Air Patrol, an official auxiliary of the U.S. Air Force.
The Grand Lake Squadron, which consists of 16 cadets and five adults, attempts to groom young boys and girls into disciplined, responsible and confident adults, whether they pursue a career in the military or the private sector, according to its leaders.
"It's a good education - it's a good first step," said Steve Gehle, a financial officer and second lieutenant of the Grand Lake Squadron.
He and his 16-year-old son Connor, both from Rockford, enjoy learning about aviation and aviation rescue.
Connor Gehle said the Grand Lake Squadron focuses on aerospace education, search and rescue training for downed aircraft, drill and ceremony and community service. The cadets also learn about first aid and other aviation fields through the weekly meetings, held 7-9 p.m. every Thursday, and at training seminars and camps, some held at Wright-Patterson Air Force Base in Dayton.
"This can help them dramatically," said Mike Gruss of Coldwater, a 50-year-old senior member from Coldwater who commands the group.
Gruss, whose two sons, Nathan, 16, and Kraig, 14, are cadets, said the group prepares its members for college and work, whether military or not.
Depending on how far a cadet advances, he or she can enter the Air Force with an E-3 ranking, which provides more privileges and pay.
Civil Air Patrol National Commander Maj. Gen. Chuck Carr said the Saturday event was an "excellent opportunity to fly our cadets and take advantage of funded training opportunities."
"Cadet orientation flights are a very important activity," he said. "Our cadet program continues to grow, in part, due to the enthusiasm and excitement these flights instill in our cadets."
Those interested in joining the Grand Lake Squadron are asked to attend a Thursday weekly meeting at the airport in Montezuma. Membership is $35 a year and includes a uniform.