Tuesday, May 15th, 2012
Alpaca shearing
By Betty Lawrence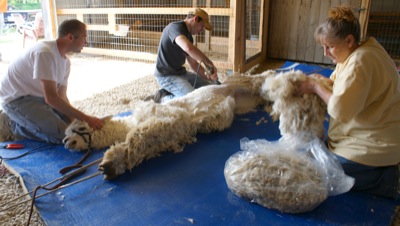 CELINA - Clippers were buzzing, alpacas were humming and fleece was flying down on the farm at Coldwater Creek Alpacas on Saturday.
Farm owners Mary and Norm Zahn hosted the annual spring shearing day when alpaca owners from four area farms gather with their animals.
"We had 26 Suri alpacas that day that were shorn, and we ended up with 155.9 pounds sheared. It was an all-day process, but things went very smooth," Mary Zahn said. "The hot summer temperatures will stress the animals, so the shearing is done in the spring, before they get too warm."
Their summer look also includes newly trimmed toenails.
The two distinct breeds of alpacas include the Suri and Huacaya. Suri fiber is silky, forming long, "pencil like" locks that hang down on the animals. Huacaya fiber is short, dense and crimpy.
All alpaca fiber is considered a luxury in the textile trade. It is lightweight, warm, as soft as cashmere and contains absolutely no allergens. It can be spun into yarn and used by artisans to turn the yarn into a wide variety of products, from sweaters to teddy bears. It can be knitted, crocheted, woven, worsted or felted.
"Alpaca fiber is judged and graded on the fineness of each fiber (or microns), the luster/shine it has, the density and consistency in the fiber lock or twist throughout the alpaca, as well as the softness and cool slick feel to the hand," Mary Zahn said.
The Zahns have learned to grade the fleece, which is then sold to spinners and weavers.
"I personally don't spin, but I have ladies that do," she said.
Suri alpacas were brought to the U.S. in 1991 from Bolivia, Chile and Peru.
Participating with the Zahns in the shearing day were owners of Ravada Hills of Salamonia, Ind., and Humble Shepherd and Coyote Song Farm, both of Union City.