Wednesday, May 16th, 2012
St. Henry couple named outstanding senior citizens
By Betty Lawrence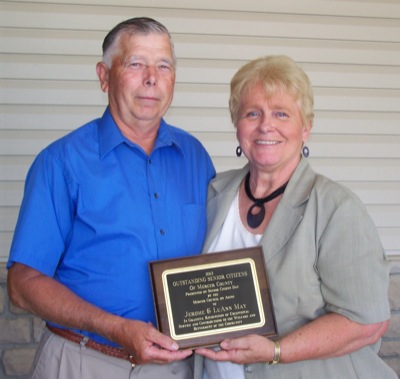 A rural St. Henry couple, LuAnn and Jerry May, were named the 2012 Outstanding Senior Citizens of Mercer County at Tuesday's annual Senior Citizens Day dinner and dance at Romer's in Celina.
The couple were selected by the Mercer County Council on Aging board "in recognition of exceptional service and contributions to the welfare and betterment of the community."
The board annually selects a senior volunteer as an example of what can be accomplished in retirement, notes the Mercer County Council on Aging Director, Karen Howick.
"The senior is someone who, through their actions, gives back to the community through their volunteer efforts. The board often struggles to choose just one, as the county is blessed with many such seniors," Howick said when announcing the winners.
The Mays were high school sweethearts and soon will be celebrating their 50th wedding anniversary.
The couple raised four sons and four daughters on their rural St. Henry farm and now also have 22 grandchildren.
They have always been active in their community and continue today. LuAnn is an involved member of the St. Henry American Legion Auxiliary, delivers contributions to the VA Center in Dayton and assists the Columbus Homeless Shelter by supplying inventory for what are known as "ugly quilts."
"They purposefully sew them ugly to keep them from being sold for personal reasons," May explained.
She volunteers at the Gardens of St. Henry and at the senior citizens center in Celina, helping with the weekly bingo party. She also serves on the center's garage sale committee.
Jerry May is an active member of the senior citizens center, where he also assists with the garage sales and serves on the board.
"I still farm some, but now I do it just for the fun of it. I have time now for my big garden," Jerry May added.
They also are active members of the St. Henry Catholic Church and many civic and school organizations.
"There are so many wonderful people who volunteer their time and service. I think this country runs on volunteers," LuAnn May added.