Saturday, May 19th, 2012
Wildcats hold off Redskins for win
Division IV Softball District Final at Wapakoneta
By Gary R. Rasberry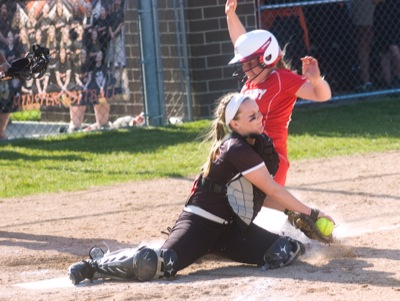 WAPAKONETA - Minster broke out with five runs in the top of the fifth inning to take a big lead, then had to hold off a late St. Henry charge to capture their first-ever district softball title with a 7-5 win over the Redskins at the Division IV Wapakoneta District final on Friday afternoon.
The Wildcats (24-6) will take on South Charleston Southeastern on Wednesday at 5 p.m. at Tippecanoe Middle School in Tipp City. The Trojans beat Riverside 14-2 at the Brookville District final on Friday. The other side of the bracket will be decided today in Brookville as Cedarville and Covington face off at 11 a.m. and Tri-Village and Triad play at 1 p.m.
"It feels great," said Minster's coach Scott Robinson. "I'm proud of the girls. The goal for us this year was to go to state. I know we're not there yet, but we're going to keep working hard. I'm proud of them for sticking with it and making it this far."
The game's start looked like to be a pitchers' duel as it took just six minutes to complete the first inning, but things would change from the fifth inning on.
The game was tied going to the top of the fifth when the Wildcats went on a tear. Jayden Hahn led off with a single, with sister Reagan reaching first on a dropped infield pop-up. After Stephanie Albers walked to load the bases, Kayla Richard worked the count full against St. Henry's Sidney Rindler before walking to bring in the second run of the game. St. Henry saved a run when Nicole Brandewie grounded into a force out at home. Hanna Floyd stepped up and lofted what looked to be a harmless fly to right-center, but the ball bounced off the defender's glove, brining in two more runs. Marissa Conrad followed up with a two-run single to make it 6-1 Minster.
"We knew if we could hit the ball at them, we could make something happen because we hit the ball hard," said Robinson.
"It's hard because we know we are better fundamentally than what we were today," said St. Henry's coach Melissa Starkey. "I don't know if it's nerves or something. I'm not sure if (Minster) had any earned runs off of us tonight. That's very atypical of us, and that's what's hard about this game. It always hurts to lose the last game, but it really hurts when you've lost and probably didn't play your best game."
After Minster picked up another run in the top of the sixth, St. Henry made a charge as the Redskins finally began to time up Richard, who held the Redskins hitless for the first 3 1/3 innings. Rachel Lefeld had an RBI single, with Ally Mikesell producing the big blow with a two-run triple that cut Minster's lead to 7-5.
Elizabeth Uhlenhake, who came in to relieve Rindler - who only allowed five hits and a walk over 5 1/3 innings, with only one earned run - in the sixth, threw a perfect seventh to set up the Redskins in the bottom of the inning. Richard got the first two outs on infield flies, but Maria Stammen blasted a screamer that hit Richard in the chest. After a minute to get her wind back and take a couple practice pitches, Richard was greeted by Jenna Watercutter, who doubled to put runners on second and third. Richard got Michelle Bruns to fly to left to end the game.
"My kids came back and got ourselves in a situation to possibly come back and win the game," said Starkey. "I really thought in the top of the seventh inning when we had the top of our lineup coming up (that) if got one of our first two batters on base, I thought we had a pretty good shot of at least tying this game up, maybe winning it."
"We have a lot of freshmen and sophomores, and they need to learn how to close out a game," said Robinson. "Hopefully, we learn from this today. St. Henry is a great ballclub, too. We knew they weren't going to quit.
Watercutter and Sarah Moeder each went 2-for-3 for St. Henry.