Thursday, May 24th, 2012
Services to honor veterans set in Grand Lake area
By William Kincaid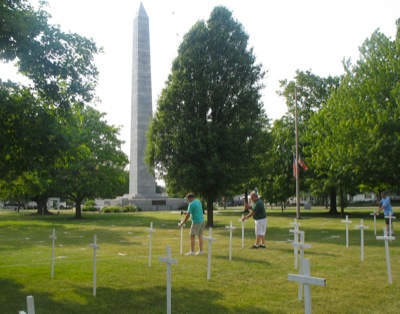 Mendon
At 8:30 a.m. Monday, a marching band and veterans will lead participants from the community park to the river, where wreaths and flowers will be placed. Services will be held at 8:45 a.m.

Celina
Services are 10 a.m. Monday at Mercer Memory Gardens. Wreaths will be placed on the graves of fallen soldiers and a 21-gun salute will be conducted.
Afterward, services will continue at the big red tent on Lake Shore Park at approximately 11 a.m. People are encouraged to bring lawn chairs. VFW Post 5713 will provide lunch.
The VFW also will provide free flags and flag holders for veterans' graves anywhere in Mercer County. They are available at the Mercer County Veterans Service Office.

St. Henry/Burkettsville
A Mass will be held at 9 a.m. Monday at St. Bernard Catholic Church in Burkettsville. After Mass, the St. Henry American Legion and St. Henry schools marching band will have services at St. Bernard Cemetery. The Legion and band then will have a service at St. Henry Cemetery.

St. Marys
Services begin Monday with a parade at 9:30 a.m. starting at the Chestnut Street parking lot. Participants will include members of the VFW, American Legion, Boy Scouts, Girl Scouts, Cub Scouts, Brownies, National Guard and fire department.
Afterward, services will be held at Elm Grove Cemetery where wreaths will be placed on graves.

New Bremen
Services will be held at 11 a.m. Monday at German Protestant Cemetery. American Legion Post 241 will conduct services with retired U.S. Marine Corps Capt. Charles Craynon as guest speaker.

Rockford
Services begin with a parade starting in front of the Rockford Carnegie Library at 11 a.m. Monday. Services will continue at Rockford American Legion.

Fort Recovery
Services begin at 7 p.m. Friday at the Wabash Bridge on North Wayne Street and will be conducted by the Fort Recovery American Legion and Veterans of Foreign Wars. After the ceremony, the veteran groups, Fort Recovery High School band, Scouts, 4-H groups, students and anyone wanting to march will parade to Monument Park where VFW State Second Vice Commander Mort Ward will speak.
Services also will be held at 10 a.m. Sunday at First Church of Christ.

Coldwater
Services will be held Monday with a Mass at Holy Trinity Catholic Church at 7:30 a.m. Afterward, services will be held at Coldwater Park and then at several cemeteries. Refreshments will be served after services at the Coldwater VFW.

St. Rose
The Maria Stein American Legion and the Chickasaw VFW will hold joint Memorial Day services Monday at the St. Rose Catholic Church. Following the 9 a.m. Mass, ceremonies continue at the cemetery with the traditional 21-gun salute and the playing of "Taps."

Maria Stein
Beginning at 7:30 p.m. Friday, a veterans tribute, May Crowning, candlelight rosary procession and Mass will be held at the Maria Stein Shrine.

Minster
The American Legion and VFW of Minster will hold a special Mass at 10 a.m. Sunday at St. Augustine Church. Veterans should arrive at the church vestibule by 9:45 a.m.
At 11 a.m. Monday, services to honor deceased veterans will be held at St. Augustine Church. The guest speaker will be the Rev. Tom Beischel, a Chaplin and WW II veteran. A 21-gun salute will be conducted after the service.
A dinner will be held at noon for veterans and their wives and the widows of deceased veterans.

Osgood
A Mass will be held at 9 a.m. Monday at St. Nicholas Catholic Church. Afterward, a service will be held at St. Martin Cemetery.
- William Kincaid