Saturday, May 26th, 2012
Soldier believes in American pride, American strength
By Margie Wuebker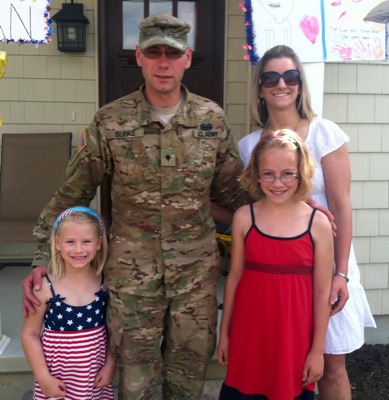 Ryan Burke returned to the homefront in time to mark Memorial Day with friends and family after a 10-month stint in Afghanistan.
"I come from a family of veterans and Memorial Day has always been special," he said. "This year it holds even more meaning if that's possible."
Burke, a member of the U.S. Army Reserves based in Columbus, described arriving at the Afghan countryside on the Fourth of July like being transported to scenes from "Star Wars."
"The countryside is far different from what you see in the capital city of Kabul or Kandahar (the country's second largest city)," he said. "People live in mud huts and do what they have to do to survive. Their ingenuity is amazing ... they can take very little and make something useful."
As a civil affairs specialist and a farm boy at heart, Burke worked with the people to make their farming efforts more successful. Some villagers were receptive; others wanted nothing to do with anything related to American forces, he said.
He also was amazed that Afghan farmers had kept old 1947 Farmall tractors running with scraps of wire and pieces of metal. Although, he learned dangerous improvised explosive devices were often fashioned of the very same things.
"I went as a civilian affairs specialist, but now I am a combat veteran," he said. "It's inevitable when you get assigned to Afghanistan. You are a rifleman first and anything else second. You have to be on a constant state of awareness and watch out for your brothers to the right and left. The Taliban look no different than villagers."
His wife, Brandy, said she stopped watching the national news, believing newscasts were not always correct.
"The Taliban are good at propaganda and counteracting their negative persona," her husband said, listing examples like photos and film clips of American soldiers burning the Quran or urinating on dead Afghan soldiers. "What you see is not always what really happened."
Despite President Barack Obama's pledge for troop reductions in 2014, Burke believes some American military personnel will remain in Afghanistan for years to come.
"Our mission is to prepare the Afghan army to take over and to give the people every opportunity to feel safe," Burke said. "That will not happen by 2014."
Local resident Kevin Olding has a daughter and son-in-law - Spec. Heather De La Vega and Sgt. Diego Vega - assigned to different Afghanistan bases. She is a combat medic; he is in the infantry.
"Sure I worry about them, but I don't dwell on my fears," he said. "Heather and Diego are well-trained soldiers like the others in their unit. They learn early on to watch each other's back."
The Vegas - Ohio Army National Guard members - seldom talk about their work, Olding said. Their Columbus-based unit recently lost three brothers, and he recalled hearing that on the news.
"The National Guard called the next day to tell me they were safe," he said.
Burke believes the effort in Afghanistan has brought greater security to many parts of the impoverished country despite what some legislators contend.
"Some people say the U.S. did not accomplish its goal," he said. "There are no winners or losers; no D-Day milestone or ticker tape parades. Knowing what we accomplished in giving people a right to live the life they want is what's important."
A recent Associated Press-GfK Group survey showed 66 percent of the 1,004 respondents oppose the war, which marks its 12th anniversary on Election Day.
The cost in terms of lives lost is high - at least 1,851 members of the U.S. military have died. An additional 15,950 military personnel have been wounded in hostile action, according to the latest AP count released Tuesday.
Olding maintains the continuing war is political, adding "Politicians make policies, and the armed forces carry out orders."
Regardless of political views, the approaching Memorial Day holiday is a time when people should pause to honor those men and women.
"It's time to stand up and show support," Olding said.

Local soldiers serving in Afghanistan:
Jared Ahrns, Celina
Robert Aisenbrey, Fort Recovery
Scott Ault, Coldwater
David Bertke, St. Henry
Dan Brockman, Fort Recovery
Ryan Jansen Burke, St. Marys
Kitt Compson, Celina
Caleb Fitch, Celina
Patrick Forsthoefel, Coldwater
Corey Giere, Celina
Matt Gruss, Coldwater
Andrew Hardeman, Celina
Klint Hemmelgarn, St. Henry
Justin Hoening, Coldwater
Chet Hone, Celina
Christopher Hood, Celina
Jill Hopkins, Coldwater
Ricky Hopkins, Coldwater
Bryce Hoyng, St. Henry
Russell Hutcheson, Celina
Kenneth Michael Kline, Celina
Andrew Klosterman, Coldwater
Craig Kremer, St. Henry
Matt Lauber, St. Henry
Justin Loughridge, Celina
Toby Luebke, Coldwater
Corey Mescher, St. Henry
Kristin Morley, Celina
Brad Nerderman, St. Henry
Jim Osborne, town not given
Cliff Payne, Celina
Jason Rump, Celina
Jerrod Rhodes, Celina
Gregory Salm, Coldwater
Matthew Swaney, Celina
Robert Blair Temple, Celina
Heather Olding De La Vega, Celina
Joe Stevens, Celina
Adam Wolters, St. Henry

- Names were submitted via The Daily Standard facebook page, email and the local Thanks to Our Yanks organization.