Tuesday, May 29th, 2012
Dream season comes to an end for Minster
Division IV Regional Softball at Tipp City
By Gary R. Rasberry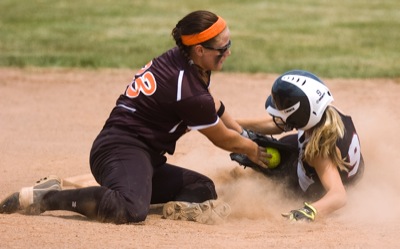 TIPP CITY - One inning turned out to be the turning point for Minster's softball team as Covington took advantage of two Wildcats' errors and scored five times in the fourth frame en route to a 9-6 win in the Division IV regional softball championship game on Saturday at Tippecanoe High School.
The Buccs (26-4) will make their second straight trip to Akron's Firestone Stadium for state competition on Thursday, facing Vienna Mathews, which beat Akron Our Lady of the Elms 6-0.
The Wildcats' best season in school history ends with a 24-7 record.
"They see now what we're doing is the right thing to do," said Minster's coach Scott Robinson, who loses just three seniors to graduation. "They know we can make a run. Hopefully, they can do it next year."
Covington got on the scoreboard in the second inning as Connor Schaffer and Morgan Arbogast hit solo home runs to give the Buccs a 2-0 lead.
The big inning for Covington came in the fourth. With two runners on and a run already in, the Buccs' Jessie Shilt reached base safely on an infield single and the errant throw to first sailed into the outfield, allowing two more Covington runs to score. Shilt went all the way to third on the two-base error and later scored on a sacrifice fly before the Buccs finished the frame with another run and a commanding 8-0 advantage.
"Our kids were ready to play and were focused," said Covington's coach Dean Denlinger. "Just played with a lot of heart and drive. We've been facing injuries all year. They've faced adversity all year."
"Early, Kayla wasn't hitting her spots and had 0-2 counts on both of those home runs," said Robinson. "She left the ball in what we call the yellow zone, or caution zone.
"That (home runs) didn't hurt us. What beat us was the inning where we had errors, threw the ball around and let them score five runs," continued Robinson.
Minster broke the shutout with three runs in the bottom of the fourth. Covington's Casey Yingst, who had no-hit Minster for the first three innings, allowed an RBI double to Marissa Conrad, a sacrifice bunt from Sara Hosey and an RBI single from Regan Hahn to make it 8-3.
The Wildcats also had several other chances to score, but baserunning mistakes proved costly.
"I'll give the girls credit. We have a lot of freshman and sophomores," said Robinson. "For them to make this run, it sets us up (for next year), but there were some bonehead plays."
It was 9-4 in the bottom of the seventh when Minster made one last run. After Yingst got the first two outs, Minster's Stephanie Albers walked and Nicole Brandewie singled. Hanna Floyd drove home Albers with an RBI single while Conrad added an RBI single to score Brandewie as the Wildcats cut the deficit to three runs at 9-6.
Hosey then stepped to the plate as the potential game-tying run but grounded out to third base to end the game.
Floyd and Conrad each had two hits to pace Minster's offense.
"When you win 20-some games in the MAC (Midwest Athletic Conference), it's huge. They've had a great season," said Denlinger of Minster. "They're well coached and the team played extremely hard today."