Monday, May 7th, 2012
Cardinals, Wildcats pick up tourney wins
Division IV Softball Sectional at New Bremen
By Gary R. Rasberry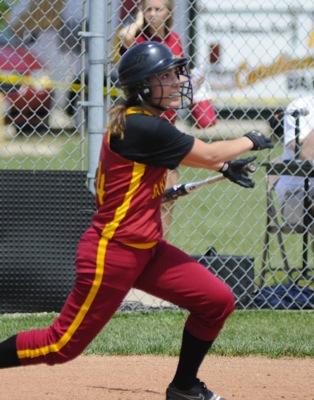 NEW BREMEN - Auglaize County came out on top against Mercer County in a pair of border battles in the Division IV softball sectional at New Bremen, which was played on Sunday after wet field conditions forced a postponement.
Minster, having its best season ever, won its 21st game and captured its first sectional title with a 10-1 win over Fort Recovery in the second game of the twinbill. The top-seeded Wildcats move on to the Wapakoneta district next week.
New Bremen got a solid effort from pitcher Kristin Sprague and the Cardinals scored early en route to a 9-5 win over Marion Local. The Cardinals are back in action again today in the sectional final against second-seeded St. Henry at 5 p.m. for the other berth to Wapak's district tourney.

New Bremen 9, Marion Local 5
Sprague, who had a 7.67 earned run average, kept the Flyers scoreless through the first five innings while scattering two hits and walking one batter.
"She has basically pitched every game this year," said Cardinals' coach Craig Griesdorn of his junior pitcher. "It was her first tournament game and she went through it with flying colors."
The Cardinals dented the scoreboard in the third inning when three Marion Local errors resulted in five unearned runs. Julie Brown had a two-run single to highlight the third frame. Another Flyers' error in the fourth inning allowed the Cardinals to plate two more runs before New Bremen added single runs in the fifth and seventh.
The extra runs were needed as the Flyers staged a rally in the final two innings. Marion Local scored two runs in the sixth and then made things really interesting with three runs in the seventh. The score was 9-5 and the Flyers had runners on first and second with one out. However, Sprague bowed her back and got a pop-up and ground out to end the game.
"Craig and his team have done a heckuva job," said Marion Local's head coach Russ Puthoff. "They put the ball into play and played well defensively, too. Sprague moved the ball around and changed speeds a bit. She kept us on our heels until the last couple of innings."

Minster 10, Fort Recovery 1
The Indians got their day started off strong with a run in the top of the first inning after a Jackie Fullenkamp RBI single that scored Beca Tobe.
Minster quickly responded with three runs in the bottom of the first inning. Hanna Floyd doubled in Marissa Conrad and Floyd later scored on an error. Alexis Robinson added the final Wildcats' run, scoring on a Stephanie Albers' grounded out.
"That's the thing that got us here - our hitting," said Minster's coach Scott Robinson. "We've hit pretty well this season."
The two-run advantage after the opening frame was more than enough run support for Minster's pitcher Kayla Richard, who struck out nine in throwing a six-hitter. Richard retired the last 13 batters she faced.
"She brought some good heat today," said Robinson of his pitcher. "That was good to see. She came into the game with a headache. Once she got a good sweat going, her head started feeling better and she started throwing harder. Once she did that, we can work the plate a little better."
Floyd went 3-for-4 at the plate with two runs scored while Conrad added a 2-for-3 game.
Fullenkamp and Tobe each went 2-for-3 for the Indians.