Thursday, June 7th, 2012
Report of body in lake a hoax
Authorities searching for 911 caller
By Nancy Allen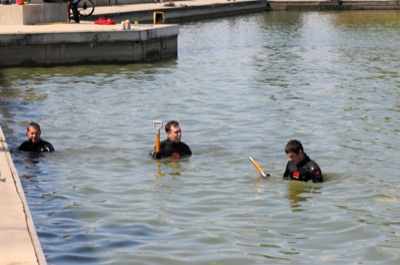 GRAND LAKE - Two calls to 911 reporting someone dumped a child's body in Grand Lake near the Celina Rotary Lighthouse on Wednesday afternoon turned out to be a hoax.
Officials now are working to determine who placed the calls about 4 p.m.
"We have confirmed it was a false report based on video from the (Celina Water Treatment) plant," Celina Assistant Police Chief Calvin Freeman said. "Watching the video, there was no activity on the boardwalk, and after that, we called it (the search) off."
Freeman also said people questioned at the scene saw no activity.
The same person reportedly called 911 twice, the first time saying an adult had placed a child on the shoreline and the second time claiming the adult placed the child in the lake. The caller also named the adult with the child; police confirmed that person was not involved.
Celina Fire Department Lt. Jon Schumm said the department's dive team searched the lake's shore around the lighthouse for about an hour before the contents of the video were known.
"It (search) cost the city a bunch of bucks, but at least the guys were able to do some dive search training," Freeman said. "We responded, determined there was nothing to be found and all is well."
Police Chief Dave Slusser this morning said the two calls were placed from a blocked phone number, which police are trying to track.
Charges that could result against the person responsible include filing a false report and inducing panic, both fifth-degree felonies, Slusser said.
The incident resulted in response by numerous police, paramedics and dive team members.
"If there is $1,000 economic harm associated with the filing of a false report, it's a felony," Slusser said. "We feel we are going to hit that $1,000 threshold."
Slusser said police will seek to make the person pay for expenses associated with the false report if convicted.
Bobbie Eisenhutt, Celina, was at the shelter house near the lighthouse when police and the dive team arrived. She said they pulled a bicycle, skateboard, tires and other junk from the lake during the search.
"It's so sad. I just lost my cousin today and somebody makes a call like this," she said. "It's sick, sick, sick."
Eisenhutt's cousin, David C. Royse, 20, Celina, had been in critical condition since the dive team pulled him from Celina's Eastview Park pond on May 29. He died Wednesday. Royse had been swimming with friends in the pond when he went under after trying to retrieve a raft that had floated away.