Monday, June 11th, 2012
Clanton dominates during Dream win
By Mike Ernst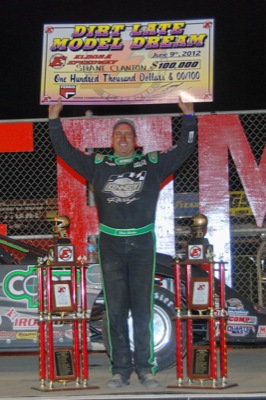 ROSSBURG - 2008 World 100 winner Shane Clanton joined an elite fraternity of drivers who have won both major dirt late model events at Eldora Speedway after dominating Saturday night's Dirt Late Model Dream.
Clanton jumped to the lead at the drop of the green flag and was never seriously challenged in the 100-lap $100,000 to-win event. Clanton, of Fayetteville, Geo., joins Scott Bloomquist, Billy Moyer, Donnie Moran and Jimmy Owens as the only drivers to have captured the checkered flag in both the World 100, the sport's most prestigious event, and the Dream, its richest.
"To win the Dream is a dream," said Clanton, whose best finish in five previous Dream A-Main starts was third in 2008. "It's a hundred-thousand to win and it's the biggest race we go to every year, so to win it is special. But to win the World also, which is the second-biggest race... prestige can't get no bigger than these two races."
Clanton's biggest challenge of the night came on a lap-23 restart when Bloomquist, who restarted right next to Clanton in the double-file restart, jumped the restart going to the top spot, only to have speedway officials throw the caution flag and penalize Bloomquist a row on the following restart.
"Scott fired 10-car lengths before we were supposed to," Clanton said. "(Race officials) were telling the whole time the race leader's got the race in control. It was my job to start the race, not Scott's. I wasn't gonna let him just go and fire with him."
Bloomquist, who was trying to sweep the week's action after Kyle Busch drove his car to the win in the Prelude on Wednesday night, would fade from there and finally retired to the pit area on the final of three caution periods on lap 66 and would be scored 21st at the finish.
John Blankenship used the restart on lap 23 to move around Brian Shirley and into the runner-up spot before stalking Clanton the remainder of the race. Blankenship held off a late charge by Darrell Lanigan to finish second, while Lanigan started 16th and finished in third. Steve Franics, who started 17th, and Dennis Erb Jr. completed the top five.
"It's a bad race to come up short in, but the car was awesome," said Blankenship. "Clanton's (car) was a little better - kudos to him, he ran a great race. I would've liked to get up there with him in the lapped traffic and mixed it up a little more. I felt like my car was real maneuverable. But when (Clanton) was up there on the top he was just just a tenth or two better every lap."
Lanigan appeared to have a car that could challenge Clanton as he methodically worked his way through the field, but his charge stalled when he couldn't find a way around Blankenship.
"We burned our right-rear tire off and got too loose," said Lanigan, who now has nine top-five finishes in 14 career Dream appearances. "We just got it hot trying to pass (Blankenship) and had to settle down for a while. We actually came back a little bit at the end, but it was just too late. Clanton was awfully good up there anyway. I don't think I could've beat him."
With Clanton cruising out front, the estimated crowd of 15,000 watched as drivers battled feverishly back in the pack. Clint Smith, Eddie Carrier Jr., Brian Birkhofer, two-time Dream winner Billy Moyer and Chris Madden completed the top 10.
Defending Dream winner Don O'Neal was never a factor in this year's event, pitting under each of the races three caution periods, before finishing 16th as the final car on the lead lap. 16-year old Tyler Reddick qualified for his first major Eldora event and finished 13th.
Former Dream winners Jimmy Owens and Jimmy Mars were each involved in heat accidents which ended their respective nights.
Owens was running in the third position on the final lap of his heat race when second-place Jared Landers lost an engine coming down the frontstretch. Friday night's fast qualifier, Earl Pearson, Jr. tried to dive below Landers as Owens went to the outside in turn one, but they collided and all three cars hit hard on the outside wall. Landers and Owens were done for the night, while Pearson used his fast time provisional to start the race and eventually finished 14th.
Mars and Dale McDowell were battling for third place in the fourth heat race when the two made contact causing Mars' machine to get airborne and ride along the outside wall before flipping several times. Mars was not injured in the mishap, while McDowell continued on in the heat and transferred to the main event before finishing 12th.
Eldora's officials will take a two-week break before returning to action on June 30 with the FASTRAK Crate Late Models, UMP DirtCar Modifieds and the Eldora Stock Cars.