Wednesday, June 13th, 2012
Bulldogs sweep two from 'Riders
By Mark Ruschau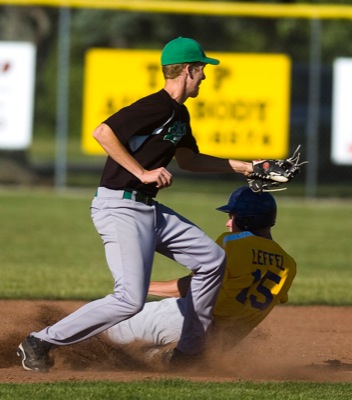 ST. MARYS - The Celina Bulldogs' ACME baseball team took two different routes, but they were able to come up with the same results, victories, as they swept St. Marys in a doubleheader on Tuesday night at K.C. Geiger Park.
The Bulldogs scored seven runs in the first two innings and rolled to a 12-1 five-inning run-rule win in the opener. In the nightcap, Celina gave up three early runs but were able to right the ship behind the relief pitching of Cody Vogel to capture a 5-4 win.
Celina has won five in a row and improves to 6-3 this summer while St. Marys (3-4) has lost three straight.
In the first game, Celina's bats came alive as it belted 18 hits, including seven doubles, while setting a new season high for runs scored. Kyle Berry led Celina's offensive attack with four hits, including three doubles while Caleb Kuhn went 4-for-4 with four RBI.
In all, eight of the nine hitters in Celina's starting lineup had at least one hit. Six of the nine scored at least one run and six had at least one RBI.
Celina jumped on St. Marys' starting pitcher Brandon Coffey with four runs in the top of the first inning. Coffey hit Riley Luebke with a pitch and he later scored on an RBI single by Vogel. Jimmy Luebke singled and later crossed home plate on a passed ball while the final two runs scored as a result of a groundout by Aric Fickert and a double by David Smith.
"They made a couple of miscues in the early innings and we were able to take advantage of them," said Celina's coach Todd Steinbrunner. "At one point in the game we had three or four doubles in a row. In the first game the bats were pretty hot, not so much in the second game."
It was St. Marys that came out with the hot bats at the start of the second game as the Roughriders scored three times against Celina's Kuhn in the first two innings. The Roughriders' run in the first was scored by Dirk Fenwick, who singled and later scored on a passed ball. St. Marys added two runs in the second inning as Alex Knous and Tyler McMurray singled to end Kuhn's day on the mound. Vogel came in to pitch and gave up an RBI single to Fenwick as the Roughriders charged in front 3-0.
After the Fenwick single, Vogel settled down and allowed just one run on two hits over the final 5 2/3 innings.
Celina tied the game at 3-3 in the third as a two-run single by Fickert was the big blow of the inning. The Bulldogs took the lead in the fourth as Riley Luebke was hit by a pitch, went to second on a single by Jimmy Luebke and scored on a single by Vogel.
Celina added a run in the fifth on a double by Berry, who took third on a wild pitch and scored on another wild pitch.
"To start the game, I told myself that I was not going to pitch Cody Vogel in the second but Kaleb Kuhn struggled a little so I went to Cody," said Steinbrunner. "Cody came in and did a great job and we executed the way I wanted them to and good things happened."