Thursday, June 14th, 2012
Housing sales, prices on rise in 2012
By Amy Kronenberger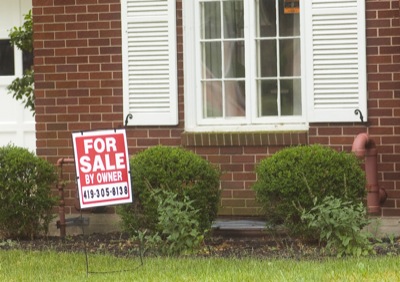 Local and statewide home sales are gaining ground this year despite a shaky economy.
Mercer County Auditor Randy Grapner said home sales for the county are up so far this year compared to the same time frame last year. From Jan. 1 to May 30, 123 parcels sold, up from 109 parcels during that time last year.
Deb Borns, owner and broker of Coldwell Banker Lakeshore, Celina, agreed, saying her business is doing much better this year. Quarterly figures she uses show home sales back to the levels they were in 2007.
"A quarter is not a good indicator of the entire year, but it is promising," she said.
Borns said this is the first year she has seen an increase in sales since the recession began in 2008. The number of homes sold in the county dropped from 498 in 2004 to 294 in 2011.
Grapner also said sale prices are increasing, which suggests a recovering economy.
Mercer County's average sale prices fell from $104,977 in 2005 to $96,162 in 2008. They ticked up to $102,804 in 2009 and fell again to $93,946 in 2010. Average sale prices climbed to $99,580 last year.
The average sale price of a home so far this year is $107,401; the average price during the same timeframe last year (January through May) was $104,593.
"Hopefully, we've bottomed out and are on our way back up," Grapner said.
Auditor Janet Schuler, who could not provide comparable figures for Auglaize County, said the county had a 2.8 percent drop in home sales from 2008 to 2010.
WRIST, Inc., a real estate listing service based in Troy utilized by local agents, showed first quarter (January-March) sales in Auglaize County increased by one, from 60 parcels in 2011 to 61 parcels this year. These numbers are up from 55 parcels in 2008, 35 parcels in 2009 and 54 parcels in 2010.
WRIST, which only represents real estate agent sales, also reported the average sale price in the first quarter fell from $96,196 in 2011 to $96,172 this year. Past average sale prices were $89,418 in 2010, $124,814 in 2009 and $109,471 in 2008.
Statewide, the number of single family homes and condominiums put under agreement in April rose for the 12th consecutive month, according to the Ohio Association of Realtors. A sale under agreement is when a buyer and seller agree on terms of the sale but have not yet closed on the property.
"The fact that the Ohio housing market has now achieved an entire year of year-over-year gains marks a tremendous milestone for (the) industry," OAR President Robert U. Miller said.
Curt McCullough, owner of McCullough Realty in St. Marys, also has seen increased business.
"It's busier for three reasons," he said. "One, the local economy is solid; two, we have historically low interest rates; and three, home prices are still down from the 2009 levels."
McCullough said most of his business last year involved foreclosures. So far this year, he has mostly dealt with traditional sales.
"We're still seeing a fair amount of foreclosures, but they've been declining," he said. "If they continue to decline, by the end of the year, we should be back to normal."
Grapner reported Mercer County has had only five foreclosures this year as of March - a huge turnaround since 2010 when 65 homes were foreclosed throughout the year. Other past foreclosures rates were 52 last year, 55 in 2009, 64 in 2008 and 21 in 2005.
Auglaize County numbers were not available.
Nationally, foreclosure rates increased almost 50 percent in 2007 and remained high, according to realtytrac.com. Rates dropped 26 percent from 2011 to 2012.
Grapner and Borns contributed Mercer County's lower foreclosure rate to low unemployment.
"We seem to be in a catch-your-breath time," Borns said.
Mercer County has had the lowest unemployment rate in the state for 13 of the last 16 months. The Mercer County rate was 4.5 percent in April, down 0.4 percent from March, according to figures from the Ohio Department of Job and Family Services.
Auglaize County was seventh lowest for its unemployment rate of 5.9 percent in April, down 0.5 percent from 6.4 in March.
Borns also said conservative banks, no longer willing to take risks, have slowed the housing market recovery time. Lenders have become more stringent. They also are taking longer to process applications.
"It might be better in the long run, but in the short term, it's causing problems," she said. "We have buyers and we have sellers, but we don't have a bank willing to lend."
Despite being more conservative, area banks are reporting an increase in lending this year. According to Ed Hensley, director of mortgage lending at First Financial Bank in Celina, they have seen a small increase in home purchases and refinances.
"Comparing 2012 with 2011, we're seeing about a 20 percent increase in mortgage activity in Mercer and Auglaize counties," he said.
In the last 30 days, mortgage rates at First Financial Bank have ranged from 3 percent to 3.75 percent for a 15-year fixed mortgage and 3.75 percent to 4 percent for a 30-year fixed mortgage.
According to national mortgage data provider HSH.com, Ohio's current average for a 30-year fixed mortgage is 4.07 percent and a 15-year fixed mortgage is 3.3 percent. Nationally, the average rate for a 30-year fixed mortgage is 4.02 percent. A 15-year fixed mortgage is at 3.27 percent.