Tuesday, June 19th, 2012
St. Henry's Post fans 12 in win
By Gary R. Rasberry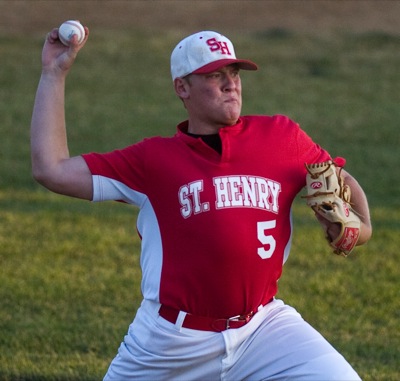 ST. HENRY - Redskins' pitcher Alex Post struck out 12 to lead St. Henry's ACME team to a 5-1 triumph over New Bremen on Monday at the Wally Post Athletic Complex.
Post scattered five hits and three walks over seven innings, with the lone Cardinals' run being unearned in the fifth inning.
Paul Moorman, who was the interim coach for the Redskins on Monday, said of Post, "He pitches well and takes control of the game. When he's on, he's on. He's tough to beat."
St. Henry (5-6) gave Post the offensive backing he needed right off the bat by scoring three runs in the bottom of the first. Derek Rindler led off with a single and Brian Kremer reached on a New Bremen error. After New Bremen's pitcher Clay Bertke tallied a strikeout, St. Henry's Jason Jacobs singled home Rindler. Kremer then scored on a passed ball before Jacobs later crossed home plate for a 3-0 Redskins' lead when Garrett Stout grounded out to second.
The Redskins pushed their lead to 4-0 in the third inning. After Post walked and moved to third on an errant throw following Briar Holloman's single, Stout picked up his second RBI of the night with a single to plate Post.
St. Henry's final run came in the fourth when Rindler scored on a Cardinals' defensive miscue.
"We spotted a couple runs early for Taz (Post)," said Moorman. "We added a couple more on and did well."
Post was cruising with a one-hitter through four innings before the Cardinals dented the scoreboard in the fifth frame. David Zirkle walked and Trevor Kitzmiller singled, with Zirkle moving to third on an error. Zirkle then scored when the Cardinals executed a double-steal.
Post scattering three hits over the final two innings, but used the strikeout to wiggle out of any potential threats.
Rindler and Holloman each had two hits each for St. Henry while Zirkle and Kitzmiller had two hits apiece for New Bremen.
The Redskins are on the road tonight traveling east to Hanover Street Park in Minster to face the Wildcats.