Saturday, June 2nd, 2012
Parkway's King narrowly misses title
State Track
By Bruce Monnin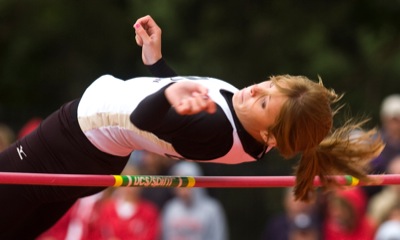 COLUMBUS - Field events dominated the action for local athletes on Friday at the state track meet. The finals were completed in all field events involving local athletes with the exception of Division II's long jump and pole vault.

Division III High Jump
Parkway's Bailey King came the closest of local athletes to winning a state championship, and arguably put forth the most effort into her attempt.
King cleared heights up to 5-2 fairly easily and then her real work began. It took her all three jumps until she survived at 5-4 and then she cleared 5-5 on her second try. That left just King and Columbus Grove's Riley Eversole to compete for the state championship.
Both girls missed all three attempts at 5-6, and since they were also even on the tie-breaker, the championship was resolved using the seldom used "jump off". The bar remained at 5-6 and each girl was given one more chance, but both knocked down the bar.
The height was then reduced by an inch back to 5-5 and both girls again failed to successfully go over the bar. So the height was reduced to 5-4 and both girls made their jumps in convincing fashion.
Since they had been successful, the bar was raised back up to 5-5. Fatigue, both mental and physical, was beginning to set in at this time for Eversole and King. Both girls failed at 5-5 and again when the bar was lowered to 5-4. This was probably King's best chance at the win as she just barely touched the bar on the way over, but it was just enough to bring it down.
When the bar was lowered to 5-3, King went first. Her torso cleared the bar but she was unable to get her feet over cleanly. Eversole had a chance to win and did so at this time to the delight of the Columbus Grove fans.
King was clearly dejected afterward, having come so close to winning a state championship and having it slip away. She also confirmed she was tired.
"It was a lot of jumps," said King. "I've never had to go back and forth like that before."

Division II High Jump
Last year at the state track meet, Celina's Lizz Carr finished seventh in the high jump and stated, "I definitely plan on being higher on the podium next year."
This year, the senior accomplished that goal.
The event was run during rainfall which varied in its intensity. After clearing the bar at each height of 4-10, 5-0 and 5-2 on her first tries, she was already in the final eight and proclaimed, "I love to jump in the rain. Bring on some sleet!"
Maybe she shouldn't have tempted Mother Nature, as the rain picked up during her attempts at 5-4. On her second jump she just barely nicked the bar, and it wobbled before falling as she watched from the mat. Before her third and final attempt a downpour fell. Carr had to stop her attempt, but she quickly refocused.
"Normally the weather doesn't affect me," she claimed. "I've jumped in all types this year."
Her last jump looked even better than her previous attempt, but once again the bar wobbled and refused to stay up. Two others also nicked the bar but it stayed up, dropping Carr to third place.
Though disappointed in being so close to winning, Carr was pleased with her improvement of four positions on the podium from last year.
"It definitely felt better finishing in third. The goal was to finish higher on the podium than last year," stated Carr.

Division III Girls' Pole Vault
In 2010, Minster's Kayla Wuebker set her own personal record by clearing the bar at 11-6 to finish in fourth place. In her junior year, she set a new personal record by reaching 11-8 to finish in third place. For her final state meet as a senior, she again improved, this time posting a height of 12-0.
Unfortunately for Wuebker, two of her competitors were former state champions in the event. 2009 champion Amanda Hotaling reclaimed the title by clearing a height of 12-4 on her third and final try. 2010 champion Ellie Braidic beat out Wuebker for second place on a tiebreaker of having fewer misses two heights previously.
Wuebker seemed happy but slightly unsatisfied with her result.
"I made another personal record," she stated, "but if I had just made that last height I would have had a chance to win."
Marion Local's Olivia Hemmelgarn just missed out on reaching the podium in her sophomore year as she tied three others for eighth place with a height of 10-0. Unfortunately, she was dropped to tenth place on tiebreakers.

Division III Boys' Pole Vault
For the boys, Minster's A.J. Huelsman continued his phenomenal tournament run by setting a new school record of 14-0 to finish in fourth place. This is an amazing result for a sophomore who missed a couple of weeks with a hip injury and had been the number-two vaulter on his team all season.
He returned from injury two weeks before the Midwest Athletic Conference meet and concentrated on the pole vault, since he had lost his place on the 400-meter relay team because of his injury.
"I also started using a new pole and practiced every day," added Huelsman.
The work paid off quickly. He finished second at the MAC meet with a result of 12-6 and improved to 13-0 for a second-place finish at the district meet before clearing 13-8 for third place at regionals. His fourth-place finish at the state meet has Huelsman thinking big.
"My goal is to win this event in the next two years," said Huelsman.
Marion Local's Mitch Kremer was eliminated after failing to conquer the height of 13-0 and finished 14th.

Division III Girls' Long Jump
Marion Local's freshman Allie Thobe finished fifth in the long jump with a leap of 17-1 3/4, better than she did at regionals last week, but over five inches short of her personal best. She reached that distance in her preliminary jumps and used that solid base to gamble on bigger results.
"Since I had a good jump in, I could just go out aggressively and try to get a better result," explained Thobe.
It did not work in this case, as she fouled on two of her final three attempts. Still, she was very pleased to be able to stand on the podium to receive her medal.
"It felt good," she admitted with a smile on her face.
Parkway's King finished in 12th place with a best jump of 15-9 1/2.

Division III Boys' Shot Put
Last year Ryan Will finished in eighth place in the shot put with a throw of 49-9. This year the Minster senior improved that effort by over three feet with a throw of 52-11 1/2.
Unfortunately, his competition also improved and he was only able to move up one spot on the podium into seventh place. Will enjoyed himself more in his return performance.
"I felt less pressure this year," said Will. "I was far less nervous."

Division III Girls' Discus
St. Henry's Cathy Delzeith also reached the podium, finishing eighth in the discus. Delzeith finished her senior season is style, not only making it onto the podium, but also setting a new personal record with a throw of 121-2.
Her performance was not without its nervous moments. She achieved her top result during the preliminaries and had to hope enough others would not pass her in the standings.
"Others usually do better during their final throws," analyzed Delzeith. "After I got dropped to eighth place, I didn't want to root against the other girls, but I didn't want anyone else to beat me either."