Thursday, June 21st, 2012
Enrollment up, expansion needed at Lake Campus
By Amy Kronenberger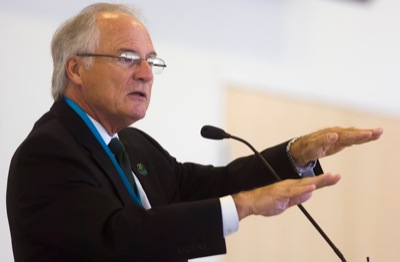 Wright State University-Lake Campus is bursting at the seams.
Enrollment increased about 5 percent last year, and so far this year, applications already are up 15 percent. The number of students has campus officials struggling to create the needed classroom, office and storage space.
"We joke about it, but it's true," dean Bonnie Mathies said of the crowded corridors. "The next person who comes in will have to share my office. We just don't have the space; we're utilizing every room."
Mathies, who spoke at the campus' annual Report to the Community on Wednesday, eluded to a future expansion project but would not give any details.
A 32-bed campus housing unit, which opened in fall 2011, has 27 students committed for next school year. Officials expect the last beds to fill soon.
"Campus housing is very important, and this is just the beginning," Wright State University President David Hopkins said. "If we see continued success, we will probably expand."
The last classroom expansion and renovation at the local campus was completed three years ago and cost of $9 million. The project included remodeling 75 percent of the campus and adding a new science and technology wing.
Hopkins talked about the university's success, crediting it to low tuition ($5,614 per year at the Lake Campus) and a desire to serve all students. Wright State has the second lowest tuition in the state for four-year universities.
"Some colleges will still only serve the top, most privileged people, but we want to serve everyone," he said. "Some of our most underprivileged students blossom here and become our most successful students."
The university also ranked third in Ohio for research development. Ranked first and second are The Ohio State University and University of Cincinnati.
At the Dayton campus, Wright State works hand-in-hand with Wright-Patterson Air Force Base, leading the country in unmanned flight research. The aerospace research department is working on a craft the size of a dragon fly that can recharge its batteries by landing on a power line, he said.
"We already lead in the research, but we want to be the mecca of unmanned flight," Hopkins told the crowd of Wright State staff and Auglaize and Mercer County officials. "We also want to lead in the production of these aircrafts to grow jobs. That's what we're working on."
He also talked about the Dayton campus getting a new $35 million neuroscience building with labs and classroom space to accommodate that growing program. Scientists are collaborating to research Alzheimer's disease, strokes and other health issues.
At the Lake Campus, officials continue to work with the community and area businesses to prepare students for the workforce. Hearing the area's plea for more skilled workers in manufacturing, the Lake Campus this year began a four-year mechanical engineering degree program.
Campus officials regularly meet with area business leaders to make sure students receive the proper training.
"We have a vision," Hopkins said. "We come from the Wright brothers, that entrepreneurial spirit that anything is possible. They flew through that smoke screen of doubt and invented flight, and that spirit is still alive here. We believe anything is possible."
Hopkins contributed that spirit to Wright State's youth and willingness to evolve.
"We are not 300 years old," he said of the 45-year-old university. "Most universities are stuck in the past, but we continue to evolve and look to the future."
Hopkins also mentioned the Western Ohio Educational Foundation at the Lake Campus. The foundation is celebrating 50 years; it was founded in 1962 to create a higher education learning center in the region. WOEF joined with Wright State in 1969 and eventually purchased the 173-acre, lake-front site where the campus is located today.
WOEF has awarded millions in scholarships and helped fund special projects, new facilities, staff projects and most recently, campus housing.
"We wouldn't be here today on this campus with the beautiful view of the lake and seeing how many lives have been touched if it weren't for the efforts of WOEF," Hopkins said.
Hopkins said residents should invest in a university that supports Ohio. While 60 percent of all Ohio college graduates move elsewhere after graduation, 83 percent of Wright State graduates stay in the Buckeye State.
"The best is yet to come with this great university, and with the help of the WOEF board, we can do anything at this campus," he said.