Wednesday, June 27th, 2012
Celina earns top seed for tourney
By Mark Ruschau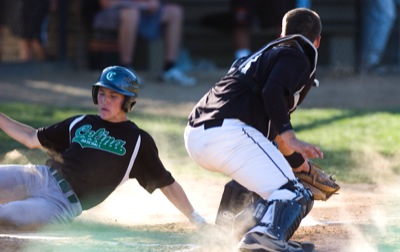 COLDWATER - The Celina Bulldogs' ACME team played well in all facets of the game and defeated Coldwater 4-1 on Tuesday to earn the top seed for the upcoming Mercer County sectional tournament, which begins on Sunday.
Celina's Cody Vogel was strong on the mound and the Bulldogs got great defense while scoring early runs to improve 14-6 this summer.
"Any time you can beat a team the caliber of Coldwater, it makes you feel good about what you accomplished," said Celina's coach Todd Steinbrunner. "Hopefully, this will give us confidence going into the tournament, but we know that we are going to see Coldwater a few more times this season and we are going to have to be ready."
Vogel was solid on the mound, except for an error, as he allowed just one run on three hits with five walks and five strikeouts in 6 2/3 innings. Vogel's teammates were solid defensively, not committing any additional errors. The Bulldogs were able to turn three double plays and Coldwater left eight runners on base.
"Cody pitched a great game tonight," said Steinbrunner. "Cody threw strikes the whole game, got them to hit the ball at the defense and they made the plays behind him."
Coldwater (16-4) had two huge scoring chances in the first two innings but came up empty each time. In the first with two outs, Matt Selhorst and Mitch Heyne walked but Vogel induced Malave Bettinger to pop out to end the potential threat. In the second, Blake Spangler and Grant Muhlenkamp each singled to start a rally. After Matt Kramer struck out, Vogel hit Mitch Schoenherr with a pitch to load the bases. Vogel than ended the threat by striking out Drew Otten and Adam Klosterman.
After scoring their lone run in the third, the Cavs were able to put runners on base in each of the last three innings but the Bulldogs turned a double play in each inning to short circuit any potential rally.
"The way we lost tonight is a lot like the way we lost here against St. Marys last Friday," said Coldwater's coach Tom Brunswick. "We got down early and then we had opportunities to score and we just did not come up with the big hit that we needed. On the other hand, Celina was able to come up with the big hit."
The big hits for Celina started in the first inning. Jimmy Luebke tripled to right with one out and Vogel was walked. After Aric Fickert struck out, Caleb Kuhn doubled to right to drive in two runs.
The Bulldogs scored one time in the second as Skylar McCarter reached base on an error by Coldwater's shortstop Adam Klosterman. McCarter advanced to second base on a sacrifice bunt by Damon Smith and then scored on an Andy Sneddon RBI single.
Celina scored its final run in the third when Vogel tripled with one out and scored on a Fickert RBI sacrifice fly.