Thursday, June 28th, 2012
Firefighters keep field blaze from igniting buildings
By Margie Wuebker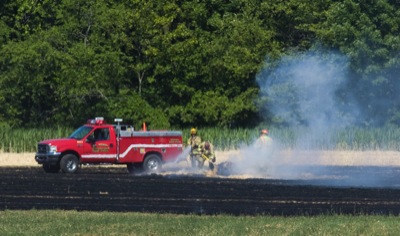 COLDWATER - Several homes and outbuildings were saved Wednesday morning thanks to the efforts of a local farmer and the quick response of area firefighters.
Coldwater-area farmer Rick Dues was baling wheat straw in a 30-acre field along the 3300 block of Siegrist-Jutte Road when he spotted a circle of fire in the stubble.
"I was clear on the other end of the field," Dues said. "The circle of fire appeared to be only 10 inches in diameter but everything is so dry."
The flames, fanned by a brisk breeze, quickly took off, consuming large round bales and the baler. Dark smoke blew toward nearby homes and storage buildings.
After placing a cell phone call to 911 at 9:43 a.m. and parking his tractor, Dues grabbed a shovel and began beating out flames heading in the direction of a barn with fenced-in livestock.
"I was afraid the homes and buildings might go," he said surveying the blackened field located behind two homes and outbuildings.
Coldwater, Southwest Mercer and St. Henry fire departments responded to the scene.
"I was afraid our shed would go with the riding lawnmower still inside," neighbor Donna Hemmelgarn said. "The flames came really close."
Dues said his loss is minimal compared to what might have happened.
"I expected to get at least 50 bales for my cattle," he said. "Now I will have to buy what I need."
Grass fire trucks traveled the field so firefighters could continue spraying water on possible hot spots.
"Without their efforts, this story would have ended differently," Dues said. "I expect a spark was all it took ... I don't remember such dry conditions since 1988."
The National Weather Service in Cleveland has issued a red flag warning for Northwest Ohio today through 8 p.m. With the likelihood of wind gusts up to 25 miles per hour, humidity as low as 23 to 27 percent and triple digit temperatures, a fire could get out of hand quickly.
The Ohio Department of Natural Resources' Division of Forestry recommends Ohioans avoid burning trash and debris, keep grass trimmed and refrain from discarding cigarettes and other smoking materials outside.
Chief state forester Robert Boyles said people also need to be vigilant with equipment that produces heat and sparks such as catalytic converters, hot mufflers, welding equipment and chainsaws.