Tuesday, June 5th, 2012
Local student crazy about Origami
By Margie Wuebker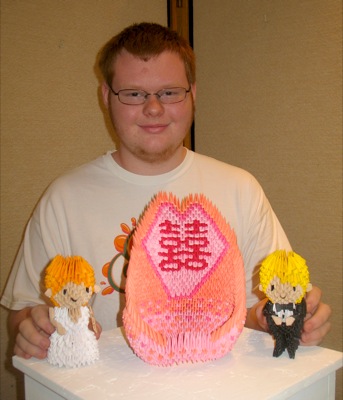 ST. MARYS - Mitchell Vires folds squares of colorful paper without looking down at his busy fingers. The pile of finished pieces steadily grows as he envisions his next project.
It might be a decorative jar complete with lid and curved bottom or a majestic bird with its wings outstretched in flight.
Mitchell, an incoming senior at Memorial High School, became interested in origami - the Japanese art of paper folding - at the age of 6.
"My older brother Cody received an origami book as a gift, but he didn't have the patience required to learn the process," he said. "He quit two weeks later and I took over."
He initially made a frog before moving on to birds and flowers. The process involving one sheet of paper at a time gradually lost its appeal so he sought something more challenging.
As a seventh-grader, Mitchell discovered the ancient art of Chinese modular origami. The paper-folding technique uses two or more sheets of paper to create a more complex design.
"Modular origami began in China and then died out before resurfacing in Europe," he explained. "Finding a book proved to be a challenge because only three were written and all were in Chinese. I finally paid $200 to get one with an English translation."
Mitchell studied the book from cover to cover and repeatedly played a video he found online, eventually mastering the technique on his own through trial and error.
"Ever since I learned how to make the modules, I have been teaching myself how to work with the paper," he said.
Sheets, mostly the same size, are folded into a module, or unit, and then the modules are assembled into flat shapes or three-dimensional structures. This is done by inserting flaps into pockets created by the folding process. The insertions hold the model together.
The 17-year-old artist displayed a Chinese marriage symbol he fashioned over the course of several days. The symbols represent happiness. He added a bride with tiny pearl earrings and a groom in a tuxedo with a bow tie.
"I had to use traditional origami paper because it's impossible to find black copy paper," he said. "The paper is half as thick and creases well, but the color comes off on your hands."
He often experiments with designs, sometimes changing them throughout the process. A globe project containing several thousand pieces of paper ended up as a map that can be hung on the wall or placed on a table. His most intricate design to date is a stick-tailed peacock with individual feathers
"I can lose track of time while folding," he said. "It is so relaxing ... I can watch television and not miss a single step."
He completed a final chemistry test without using the extra page provided for calculations so he fashioned a swan while waiting for other students to finish.
"I did a lot of paper folding during physics class," he admitted. "The pieces were hidden in the pocket of my sweatshirt."
He is involved in independent art studies as part of the school's honors program with plans to major in biology at Bowling Green State University after graduation.
"I'm probably the only art student who cannot draw or paint," he said. "I have horrible drawing skills, and I'm not any better at painting."
Most of his handiwork eventually becomes gifts for others, including teachers and high school secretaries. He has made many things for his mother Melissa, including an intricate rose and a detailed owl. He also made corsages and boutonnieres for fellow students who wanted to give them to their prom dates.
Now for the first time he will be offering pieces for sale at an exhibit that opens Thursday at The Collective Center in St. Marys. Prices range from $15 for a small bird to $75 for the decorative jar created from 60 sheets of paper.
Mitchell admits he is his own worst critic, citing a dragon that earned rave reviews as one example. Even the 4-H projects that took blue ribbons at the Auglaize County Fair have been taken apart and stowed in a box.
"I draw inspiration from what others have done since this Chinese art form exploded in recent years," he said. "I try to improve the design and make it my own. Sometimes I am pleased with the final result and other times I have more work to do."

Display:
What: A show featuring the works of Mitchell Vires, an incoming senior at Memorial High School, St. Marys.
When: Thursday-July 15; gallery hours are noon-4 p.m. Mondays and Wednesdays and 2-6 p.m. Tuesdays and Thursdays. Artist reception 6-8 p.m. Friday.
Where: The Collective Center, 142 East Spring St., St. Marys.
More info: Call 419-394-0707 or visit www.artsland.org.