Friday, June 8th, 2012
Celina halts three-game losing skid
By Gary R. Rasberry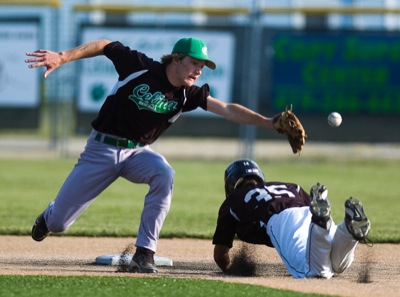 CELINA - Having lost three straight games by one run, Celina's ACME baseball broke out of the slump with a 7-2 win over Parkway on Thursday at Montgomery Field. It's the first loss of the summer for the Panthers.
"I was happy how the kids bounced back after losing three in a row by one run each game in the bottom half of the (last) inning. With one game against Shawnee, we lost in the bottom of the 10th," said Celina's coach Todd Steinbrunner. "I'm very pleased how they played today."
Parkway (2-1) got out to a strong start. Cain Pontsler led off the game with a walk before Celina's pitcher Cody Vogel then struck out the next two batters. The Panthers' Brandon Moorman doubled to right to score Pontsler for the first run before Moorman scored on a Celina error for a 2-0 Parkway lead.
Celina quickly rebounded by scoring twice in the bottom of the first frame. Shawn Stachler singled and later scored on an error while Vogel tied the score by scoring on Aric Fickert's RBI double to left.
"We've been beat the last three games in the bottom half of the (last) inning because of some defensive errors," said Steinbrunner. "First inning was a little hard for us, but after that first inning, we played really well."
After scoreless frames in the second and third, Celina took the lead in the fourth as Kyle Berry doubled and Kaleb Kuhn reached first after a misplayed strike three. Damon Smith came in to pinch-hit and doubled off Austin Adams, scoring both baserunners to make it 4-2 in favor of Celina.
The Bulldogs scored two more in the fifth on a two-run double by Jimmy Luebke and then added a run in the sixth when Andy Sneddon scored from second on Riley Luebke's deep sacrifice fly to left.
"We got a hit from Damon and that broke us open a bit," said Steinbrunner. "Jimmy came up an inning later, had an 0-2 count and hit a double off the fence and scored two more runs. Those were two big hits for us."
"We capitalized on a couple of Celina miscues in the first inning and Celina bounced back. We had a couple miscues ourselves," said Parkway's coach Kirk Stephenson. "Just weren't able to put hits back-to-back like Celina was able to tonight."
Vogel shut down the Panthers after giving up the two runs - one earned - in the first. Vogel struck out seven and scattered six hits and five walks. Parkway stranded nine runners on base, including runners on third base in the sixth and seventh.
"Cody did his normal thing that he always does on the mound," said Steinbrunner. "Kid's just a leader out there."
"Too many fly balls (six fly ball outs) and too many just standing there watching," said Stephenson. "Credit to Celina. They played well. Cody did a nice job."
Celina is back home for a two-day round-robin featuring St. Henry, St. Marys and Crestview. Celina will play St. Henry tonight around 8 p.m. Parkway travels to Defiance for a weekend round-robin on Saturday and Sunday.