Friday, July 6th, 2012
Losing leg doesn't stop man's passion for life
Ready Riders roll into St. Henry to raise awareness, dollars for youth amputees
By William Kincaid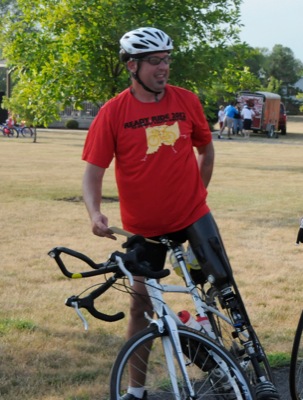 ST. HENRY - Mike Clark hasn't allowed the loss of his left leg from the knee down to stop him from living a fulfilling life.
Clark, the 40-year-old son of Betty and Jim Clark of Montezuma, rode 90 miles on Thursday morning from Blue Ash to St. Henry with 11 other amputee cyclists known as the Ready Riders. The group is in the midst of a seven-day, 600-mile trek to raise awareness and dollars for youth amputees.
After a grueling day of extreme heat, the riders stopped for the night at the home of Jean Giere, Clark's aunt, in St. Henry. A throng of family and friends lined the sidewalk in front of Giere's home, cheering the men and women cyclists in matching red tops as they approached their destination.
"It's amazing the kind of support they get," Jim Clark Jr., Mike's older brother from Montezuma, said. "It's just like Forrest Gump - people start going with them."
"I thought they were crazy," Betty Clark said about the riders, who last year launched their first tour, a 740-mile journey from Clarksville to Kansas City, Mo. "I still think they're kind of crazy. They like what they do."
Betty Clark and Giere's 13-year-old son, Dylan, joined the Ready Riders for a portion of their ride. An RV containing water, Gatorade and other provisions trailed the cyclists.
Greeting Mike Clark in St. Henry were his wife, Gail, and their four children, Krissy, Sam, Owen and Isaac.
"He'll tough it out," his wife said when asked if she thought the record-breaking heat would hinder the rider's 600-mile trek.
Mike Clark said two of the riders experienced cramps the last 20 miles and another suffered from heat exhaustion, but everybody made it. The riders took some twisting routes on their way from Blue Ash to St. Henry to circumvent some of the steeper hills, he said.
"I knew he could do it," Mike's father, Jim Clark Sr., said. "He's always been very strong, mountain climbing and canoeing down river. It (the accident) didn't slow him down at all."
Mike Clark lost part of his leg in a motorcycle accident two and half years ago. He was walking three days after the accident with the assistance of a walking crutch, his father said.
"After that, I just wanted to get back into shape," Mike Clark said.
He trained for a month for his latest journey, riding 30 to 40 miles every other day.
The cyclist said he was only bummed out for a week or two after the accident, realizing much of his life would continue as it had before. He has one prosthetic leg for walking and another for cycling.
"If I had long pants on, nobody would be able to know I'm an amputee," he said.
Prior to the accident, Mike Clark worked in heating and air conditioning. He said it is not possible for him to lug around ladders and carry furnaces downstairs, therefore, he has gone back to school.
He hopes to become a Chinese Mandarin translator or teacher. He has two semesters left at Sinclair Community College before he earns his associate degree. He then plans to transfer to the University of Dayton.
Mike Clark said he began cycling with the Ready Riders to help raise money and awareness for children with amputees because of the tremendous generosity bestowed on his family after his accident. The group is raising money to send amputees to a summer camp at Camp Joy in Clarksville.
"They've raised so much money along the way," his father said.
The riders departed St. Henry this morning for Fort Wayne, Ind. During the next few days, they will make stops in Elkhart, Ind., Bryan, Fremont and Lima before ending the journey in Mike Clark's hometown of Tipp City.