Friday, July 13th, 2012
Eilerman the spark in Minster's victory
District 4 ACME Tournament at Minster
By Mark Ruschau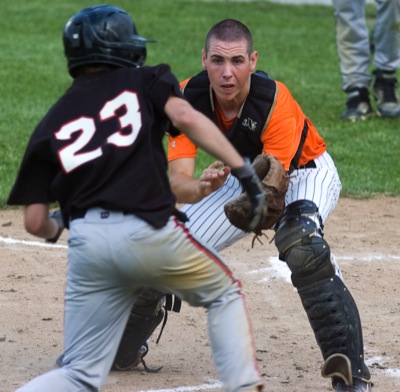 MINSTER - The Minster Wildcats used a huge offensive outburst in the first inning and a solid pitching performance from J.R. Nixon and Matthew Trushaw to eliminate the Fort Loramie Redskins from the District 4 ACME tournament with a 7-3 triumph on Thursday night in the Auglaize-Shelby bracket at Hanover Street Park.
The Wildcats advance to the bracket finals tonight against the Wapakoneta Redskins at 6 p.m. If Minster wins the first, a second game will be played immediately following the first game. The winner of the Auglaize-Shelby section will advance to play either Celina or Coldwater at Coldwater in the final series starting on Monday. The winner then qualifies for a trip to next week's ACME state tournament at Bryan.
Jay Eilerman got his teammates going with a big defensive play in the top of the first. Fort Loramie's Aaron Boerger led off the game with a single and stole second base before advancing to third on a bounce out. The Redskins' Seth Guillozet then hit a fly ball to Eilerman in center who caught the ball and then threw home and nailed Boerger at the plate for the final out.
Eilerman then led off the bottom of the first with a double. After J.R. Nixon and Brad Walterbusch walked, Eilerman scored on an errant pick off throw to first base. Drew Ripploh then walked to reload the bases before Matthew Trushaw and John Baumer each drove in a run. Jacob Wuebker drove home two more runs with a bloop hit on the right-field line. Eilerman than capped the seven-run inning with an RBI triple to the fence in leftfield.
"It was a good first inning for Minster baseball tonight. It was nice to get the lead early and that allowed our pitchers to go back to the mound and pitch with a lead," said Wildcats' coach Mark Wiss. "Jay Eilerman started things with the great throw to the plate to complete the double play and that was huge. Then he came back in the bottom of the inning and led things off with a big hit and capped it off with a triple. Jay has been hitting the ball well here lately and he came up huge tonight."
Nixon threw five solid innings on the mound and allowed two runs on five hits to garner the win while Trushaw came on to pitch top of the sixth and completed the game with two hitless innings.
"We had to tried to conserve pitching with one maybe two games tomorrow night and J.R. came out and did a great job of throwing strikes," said Wiss. "We played better defense than we did on Tuesday night. We did not commit an error and we made the plays that we had to make."