Saturday, July 14th, 2012
Cavaliers eliminate the Bulldogs
District 4 ACME Tournament at Coldwater
By Gary R. Rasberry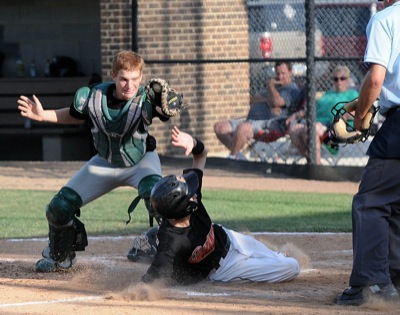 COLDWATER - A wild and wooly night at Veterans Field in Coldwater ended with the Cavaliers advancing to the District 4 ACME tournament championship game, but not before Celina gave them trouble throughout the 16 innings played between the two Mercer County rivals.
Celina denied Coldwater an undefeated record in the Mercer-Van Wert bracket, scoring seven times in the top of the ninth inning to force a second game with a 10-3 win over the Cavaliers.
In the nightcap, Coldwater's Derek Thobe, pitching on just two days rest, scattered three hits and struck out nine to help the Cavaliers advance with a 7-1 win.
Coldwater (23-6) will stay home and face Auglaize-Shelby County bracket winner Wapakoneta on Monday at 7 p.m. Wapak, undefeated thus far in the tourney, will need only to win once on Monday to advance to the state tournament in Bryan next Saturday. Should Coldwater win, the winner-take-all second game would take place on Tuesday at 7 p.m. in Coldwater.
"They've got a good ballclub, there's no question," said Coldwater's coach Tom Brunswick, who will look to get his team back to the state tournament for the first time since 2009. "They've got a lot of guys who have been there (Wapak's varsity team was the Division II state runners-up this past spring) and a lot of veterans. They have good pitching. It's going to be a tough challenge, but I think our kids want to see what they can do."

Game One
Celina 10, Coldwater 3
In the first game, Celina's Cody Vogel and Coldwater's Christian Schramm engaged in a pitcher's duel.
"Cody Vogel threw a great game, so did Christian," said Brunswick. "We left some guys on and missed some opportunities."
The Bulldogs got first chance to gain momentum after scoring twice in the top of the sixth. After Kaleb Kuhn doubled and Aric Fickert reached base safely on a fielder's choice, the Bulldogs' Kyle Berry blasted a shot to deep centerfield and up Hemmelgarn Hill for a two-run triple to break a 1-1 tie while putting Celina on top 3-1.
Coldwater wasted no time by scoring a pair of runs in the bottom of the sixth to knot the score at 3-3. Matt Selhorst singled and came home on Blake Spangler's RBI double. After a sacrifice bunt, Coldwater went for a squeeze with Matt Kramer at the plate. Kramer laid down the bunt and pinch-runner Aaron Harlamert came flying home to score and tie the game.
Both teams had chances to score in the seventh and eighth before Celina finally broke through in the ninth. Three straight infield hits - including two bunt singles - started the rally for the Bulldogs. With the bases loaded, Schramm hit Shawn Stachler to bring home Riley Luebke for the go-ahead run. After Brunswick brought on Selhorst to pitch, Kuhn brought home two more runs with a single and Cody Vogel followed with a two-run double. In all, 13 Bulldogs came to the plate in the ninth with seven runs scoring.
"We just had the one big inning where we got to Schramm a little bit," said Celina's Todd Steinbrunner. "Then they brought in Selhorst and we were able to get some runs off him. We just took advantage of errors that they made. It worked out in our favor."
"Our defense broke down in the ninth and the wheels fell off," said Brunswick.
Riley Luebke, who came on to pitch for Celina in the eighth inning after Vogel went seven innings and allowed six hits and two walks, threw two shutout innings to earn the win.

Game Two
Coldwater 7, Celina 1
Thobe and Riley Luebke, who would go the distance in the second game, had the makings of another pitcher's duel in game two, but Coldwater was able to get the advantage in the third. Ethan Bettinger doubled in Drew Otten before Heyne tripled in Bettinger to plate the first two runs. Heyne then scored when the throw to third went into Coldwater's dugout.
That was all the run support that Thobe needed as the sophomore-to-be allowed just one run - an RBI double by Fickert to score Vogel in the fourth - while scattering three hits and walking one with nine strikeouts.
"To our credit, the guys came back the second game," said Brunswick. "We got a gem of a game from Derek on short rest. He was fantastic tonight. He mixed his breaking ball a lot more and got ahead in the count, and we hit the ball a little better."
"Anytime you play a team like Coldwater, you know they're going to get some runs," said Steinbrunner. "We've got to be able to hit. Derek Thobe pitched a great baseball game, coming back after pitching on Tuesday. He pitched very well."