Monday, July 16th, 2012
Swindell crowned King of Eldora for the third time
29th Annual Kings Royal
By Mike Ernst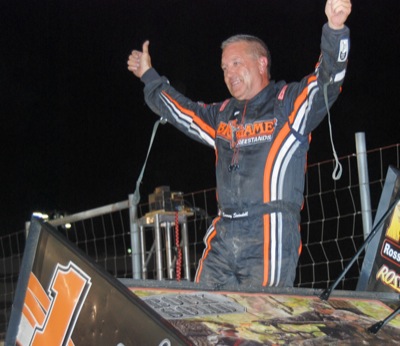 ROSSBURG - Sammy Swindell withstood a late rally by Kerry Madsen and won his third $50,000 check at the 29th annual Kings Royal on Saturday night at Eldora Speedway.
Swindell took the lead from 2008 Kings Royal winner Daryn Pittman on lap 11 and then held on for the win in the 40-lap event.
One year ago, Swindell appeared to be headed to his third Kings Royal win when he blew his right rear tire just 200 yards from the finish line, which allowed Tyler Walker time to pass and pick up the win.
"We came so close last year and had a great car and a great race going until the very last corner," said Swindell, from Germantown, Tenn. "That was in the back of my mind. Once I thought we were losing a left rear tire, I just told myself, 'Don't worry about it. Just hit your marks and keep going and whatever happens is going to happen.'"
Madsen started the main event in the 10th position but gradually worked his way to the front and moved into the second position after a spirited battle with Pittman on lap 26. The final of three caution flags flew on lap 28, allowing Madsen to restart next to Swindell.
Swindell pulled away initially before Madsen began to close the gap. Madsen tried a slide-job in turns one and two on lap 36 but came up short in those pass attempts and lost his momentum as Swindell stretched his lead. Madsen closed in again over the final three laps and tried one last desperation move on the final lap, but again came up short.
Madsen, an Australian who also finished second in the 2010 Kings Royal to Steve Kinser, was left to contemplate what might have been had he waited another lap to attempt the aborted lap 36 pass attempt.
"I didn't really try a slide job, I just tried to run the middle and thought I could get a run to do a slide job a lap later and it completely backfired on me," Madsen said. "I just lost too much ground."
The 56-year old Swindell never saw Madsen but could tell by the shadows in the track that someone was within striking distance.
"I think he was trying to do all he could," Swindell said. "I couldn't see where he was. I think we had to be fairly evenly matched. If he was faster, I think I would've seen him quite a few times. We must have had fairly equal cars."
Jac Haudenschild, a three-time Kings Royal winner, finished in third place while Justin Henderson was fourth with Kraig Kinser in fifth.
Pittman made contact with Stevie Smith while leading on lap 10 to bring out the first caution flag of the event and struggled over the races final 30 laps. Pittman eventually finished in sixth while Friday's winner Joey Saldana, Donny Schatz, Greg Wilson and Steve Kinser completed the top 10. Steve Kinser finished fourth in the B-main to grab the final qualifying spot for the 24-car feature event and extended his streak of qualifying for all of the 29 Kings Royal races.
At 56-years old, Swindell knows he is closer to the end of his career than the beginning, but he still loves racing at Eldora, where he now owns 20 World of Outlaw Sprint Car Series wins.
"It's harder to win these things and harder to do this. I really love this place," Swindell said. "I always have. To win here is great. You really have to have a good car but you have to be smart. You have to put the car in the right place and keep the car under you. It's a tough track but I enjoy it."
The National Racing Alliance Sprint Invaders ran their third event of the 2012 season at Eldora on Saturday night and Randy Hannagan stayed perfect by picking up his third win of the campaign.
Hannagan held off a charge by Kyle Sauder, who finished in second place ahead of Butch Schroeder, Dustin Daggett and Hud Horton.
Eldora will sit idle this weekend before returning to action on Saturday, July 28th with the Summer Sprint Car Shootout. The event will feature the United States Auto Club (USAC) Sprint Cars, the NRA Sprint Invaders as well as the Eldora Stock Cars. In honor of USAC's 50th season of racing, the main event will be 50 laps and pay $10,000 to the winner.