Saturday, July 21st, 2012
Heat, drought benefit some
By Shelley Grieshop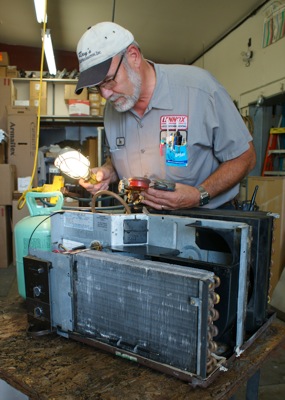 The summer's scorching temperatures and dry conditions have provided welcome nourishment for some.
Business is good at Quality Plumbing & Heating in St. Marys due to the ongoing strain on air conditioners of all kinds and sizes.
"Most systems aren't sized up to work this hard," owner Glen Walker said. "They just can't keep up."
Numerous days of 90-degree heat and higher have pushed capacitors and motors to the breaking point.
Tina Smith of Celina also has reaped benefits from the desert-like weather. She and her ice cream truck were busy when temperatures outside began breaking records.
"We sold lots of snow cones and Bomb Pops," she said. "Ice cream sandwiches just melt too fast in the hot weather."
She did discover a downside, though. Kids disappeared in the afternoon as she steered her Miss Tina's Ice Cream truck through neighborhoods in Celina, Fort Recovery and St. Marys.
"When it's real, real hot, we don't sell a lot in the afternoon. Kids don't come outside. I think they just stay in the house playing video games in the air conditioning," Smith said. "Evenings are better."
Ed Neargarder of Clancy's Tables N Tubs, Celina, had hoped swimming pool sales would soar with the temperature. Alas, it did not.
"I think because the economy's not doing so well, people are buying the kind of pools you just throw up in your backyard," he said.
But there is a bright spot; most of those cheaper pools come with inadequate filter systems, and Neargarder stocks just what they need, he said.
Recent rainfall has been spotty in the Grand Lake area and the region remains in a severe drought. According to the National Weather Service, the area should have recorded nearly 25 inches of rain since January, instead of a mere 11 or so inches.
It's a dire situation for most farmers but not road construction crews. Brad Laffin, road supervisor for Mercer County, said rainfall can be an enemy.
"Rain always is a big factor for us. It can shut a project down for three or four days," he said.
The dry summer has put several projects ahead of schedule including large culvert replacements, which require shallow water in creeks and rivers.
Laffin said county workers likely will complete more pavement patching and other tasks this summer if the weather pattern continues.
Ashley Wilt, a golf pro and manager at Arrowhead Park Golf Club in Minster, has been overwhelmed some days trying to schedule tee times. However, most of his customers avoid the afternoon sun, he said.
"The 'no rain' thing is OK but that heat in the middle of the day ... we don't get as much afternoon play in," he said.
Overall, he's not made huge profits from the weather because extra money is being spent on cooling the buildings and watering the fairways, he said. But he's not complaining.
"At least we can irrigate if we want. Most of the farmers around here don't have that luxury," he said.