Monday, July 23rd, 2012
Two drivers die in accidents
By Margie Wuebker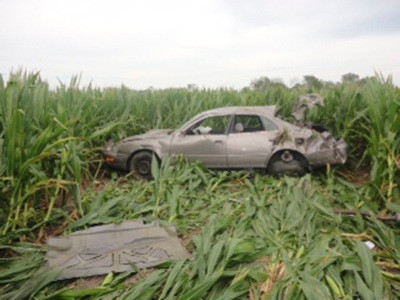 Mercer County recorded its 13th and 14th traffic fatalities in separate accidents during the weekend.
Steven L. Kable, 37, 214 E. Fulton St., Celina, was pronounced dead at 7:11 p.m. Saturday at Mercer County Community Hospital, Coldwater, after he had lost control of his car along Tama Road, just west of Wabash Road.
Noland R. Kirk, 63, of Fort Wayne, Ind., was pronounced dead at the scene after his car had collided with two horses along state Route 49 between Oregon and Koch roads.
Neither Kable nor Kirk was using safety belts at the time; both were thrown from their vehicles.
The Mercer County Sheriff's Office received a call at 6:57 p.m. Saturday regarding Kable's accident.
He was driving a 1994 Toyota eastbound on Tama Road and reportedly lost control while negotiating a curve. He swerved and overcorrected, causing the car to slide broadside across the road, strike a telephone pole and roll multiple times before coming to rest on its wheels in a nearby cornfield, according to the accident report.
Kable, the lone occupant of the vehicle, was located in the field and transported to the hospital.
A westbound motorist told authorities Kable's car was slightly left of center entering the curve. He apparently pulled to the right and overcorrected.
"The motorist saw the car sliding broadside in her rear-view mirror," Sheriff Jeff Grey told The Daily Standard. "The investigation is continuing, but we have no indication at this point of impaired driving."
Deputies were assisted by Chattanooga Fire Department and a Rockford squad from Mercer County Emergency Medical Services.
The second fatality occurred at 12:50 a.m. Sunday after two horses wandered out onto the highway. Deputy Darrell Etgen, responding to a 12:26 a.m. call of loose horses in the area, was in the process of alerting Amish farmer Joe V. Schwartz when Kirk's 2002 Mercedes Benz struck the animals. The vehicle then rolled onto its top and slid into a nearby cornfield before coming to rest on the passenger side.
Kirk's body was transported to Community Hospital.
As Etgen and the farmer were checking on the driver, a second accident occurred when another northbound vehicle - a 2003 Buick - collided with a horse from the earlier crash.
Driver Angela K. Jenkins, 38, of Decatur, Ind., and a passenger escaped injury. Another passenger, Kathleen Y. Dolen, 38, of Monroe, Ind., was transported by ambulance to Community Hospital for treatment of injuries. She was later released.
Deputies were assisted at the scene by Chattanooga firefighters, a Celina squad from Mercer County EMS, the Ohio Department of Transportation and the Mercer County Emergency Response volunteers.
Grey said sheriff's deputies typically park their cruiser on the road when loose animals are involved and a dispatcher alerts the owner by telephone. This was not possible since the Amish farmer had no phone service.
Etgen arrived to find loose horses in a barnyard on the east side of the road and multiple horses loose in another barnyard across the road.
"They (the deputy and the farmer) were coming back to the road when they heard tires squealing," Grey said.
The sheriff said the department policy will be reviewed.
Blood samples were drawn from the drivers; toxicology results will not be available for six to eight weeks.
The two fatalities follow a July 14 crash that took the lives of Craig A. Gengler, 22, of Celina, and Vincent Anthony Gragorace, 21, of Greenville. They were backseat passengers in a vehicle driven by 27-year-old Ryan Billenstein. Billenstein and a front-seat passenger were treated and released from an area hospital. The investigation into the crash is continuing, and Billenstein's blood test results are not back from the lab.
"The nine accidents that claimed 14 lives have been caused by multiple factors," Grey said. "There is not one single thing we can pinpoint as a factor on which to focus."
Deputies found no alcohol or drugs present in blood drawn from drivers in an April 16 accident that claimed five lives along U.S. 127. Drugs have been cited as a factor in two of the nine crashes and another involved alcohol. Grey said the death of a St. Henry woman March 6 at the intersection of U.S. 127 and state Route 119 was due to failure to yield.
Grey said the county recorded nine fatalities in 1997 or 1998 and 2005. He also believes there was a year in the early 1990s when 18 people were killed on roadways; office personnel were checking records this morning.