Thursday, July 26th, 2012
Parade grand marshal knows everyone's name
By Shelley Grieshop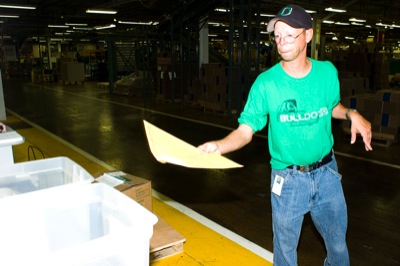 CELINA - "Bulldog Bill" may be more popular than the presidential candidates and certainly has more charisma.
Bill Nietfeld, also known as "Celina Bill," is a familiar face at sporting events, festivals and just about every local gathering that draws fans, spectators and patrons.
"I have fun. I just enjoy myself," he said.
The 45-year-old's enthusiasm and support for the city of Celina earned him the title of grand marshal at the Lake Festival parade Saturday night. He will ride in a horse-drawn carriage.
Festival committee member Kevin Pyle said Nietfeld was the perfect choice for this year's theme, "Where everyone knows your name."
"It kind of fits ... His name came up pretty quick when we decided on a theme," Pyle said.
Celina Mayor Jeff Hazel agreed that Nietfeld fits the parade theme to a "T."
"Frankly ... he knows everybody. I'm very proud of Billie and very pleased that he's going to be there for the city of Celina," he said.
Nietfeld draws smiles wherever he goes with his trademark raised index finger and friendly "hi!" His cheerful demeanor, ease with strangers and affinity for music (he plays the drums) is a pleasant side effect of Williams syndrome, a genetic condition he was diagnosed with at birth. The downside is the medical problems it can cause such as cardiovascular disease, developmental delays and learning disabilities.
Nietfeld's parents, Marce and Judy, said their son nearly died at 5 months old from a cyst in his throat. By the grace of God he lived and they couldn't be prouder of the man he is today, they said.
"We are blessed, truly blessed with who Bill is," his father said.
Nietfeld works part-time as a mail carrier at Reynolds & Reynolds in Celina and one day each week at CA Industries. His favorite mode of transportation is his bicycle, although his parents often drive him to events further away.
"If there's anything happening anywhere, Bill's there," his father said with a laugh.
They are amazed at the people he's met and befriended from across the state and beyond. At local sporting events he often strolls to the visitors' side to socialize, his parents said. They once lost sight of him at a Special Olympics event and eventually found him chatting with then Ohio Gov. Richard Celeste.
In his spare time, Nietfeld enjoys taking small electronics apart to see how they work. In a small room in his apartment, he has treasured boxes of circuit boards, screws, small rolls of copper and other items.
His true passion is trains, not toy trains, the real thing. Yet he has no desire to hitch a ride on one.
"I just like watching them," he said with a grin.
Each year he visits Fostoria where three main railroad lines converge. He's traveled with his family to multiple states to satisfy his railway fascination and is planning a camp-out with his father along a track.
Nietfeld's love of music and devotion to the Celina High School Band also is well known. It began when he was spotted regularly standing outside the fence at the football field, marching alone in step with the practicing musicians. Soon he was invited to join them; he traveled with the band, carried their banner during parades and even served as director during a half-time show.
Saturday's honor won't be the first for Nietfeld. He was chosen to throw out the first pitch during Celina Night at the Cincinnati Reds baseball game in 1988. In 1997, he was given the Ohio High School Athletic Association State Award for exemplary contribution and service, and in 2002, he was honored as Celina High School's No. 1 Bulldog fan.
"He's been around," his father chuckled.
Bill Nietfeld is excited about his newest recognition and hasn't forgotten the people who made it happen. He quickly thanked the Lake Festival committee and the people of Celina and surrounding communities who always make him feel welcome.
His only request after the special ride on Saturday is a quick trip back to the fire department where he's watched the parade for years.
"I don't want to miss it," he said.

Schedule:
Rides, entertainment and refreshments will be available throughout the weekend at the festival along Lakeshore Drive. Additional information can be found at
lakefestival.com
.
Friday
• 9 a.m. - sidewalk sales downtown, craft show
• 6 p.m. - cruise-in downtown
• 7 p.m. - water ski show
• 7:45 p.m. - amphicar swim-in at hot water hole
• 8 p.m. - Sierra Shame
• 10 p.m. - fireworks
Saturday
• 8 a.m. - 5K run at Lake Shore Park
• 8:15 a.m. - Women's Walk for Wellness at Lake Shore Park
• 9 a.m. - craft show downtown and at Lake Shore Park
• 9 a.m. - collectors car show and antique tractor exhibit downtown
• 9 a.m. -- sidewalk sales downtown
• 1 p.m. - water ski show
• 2 p.m. - cardboard duck tape boat race at Lake Shore Park
• 4 p.m. - water ski show
• 6:30 p.m. - parade
• Dusk - free movie at Lake Shore Park
Sunday
• 9 a.m. - sail-in worship service at Lake Shore shelter house
• 1 p.m. - BBQ chicken dinners at Lake Shore Park
• 11:30 a.m. - children's fishing derby at Lake Shore Park
• 12:30 p.m. - water ski show
• 1 p.m. - garden tractor pull, kiddie tractor pull
• 2 p.m. - Duck for a Cure