Friday, July 27th, 2012
Kroger plans Celina store
By Shelley Grieshop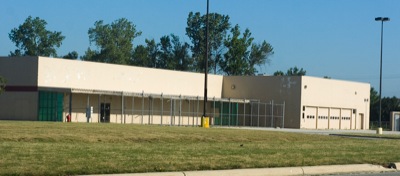 CELINA - A scaled-down Kroger store is planned for the vacant space next to recently opened Dunham's Sports.
Kroger spokesman Keith Dailey confirmed this morning the company intends to open "a small concept store" at the site after the holidays in early 2013.
"We are in the process of determining how to bring the best value and the right store format to Celina," he said.
Marty Graff, owner of the former Walmart building, recently signed a lease with Kroger for 25,000 square feet of space on the east side of the building in the Lakewood Village Shopping Center.
"Obviously, Kroger likes Celina and likes our property," he said. "We're happy, happy."
Kroger, headquartered in Cincinnati, operates a full-service store in St. Marys at the intersection of U.S. 33 and state Route 66, which opened its doors in May 2006. The Kroger company has more than 2,400 supermarkets and multi-department stores in 31 states. Overall, fiscal sales in 2011 totaled $90.4 billion, according to its website.
The planned Celina store may operate under one of the company's two dozen banner names including Kroger, City Market, Jay C, Food 4 Less, Fred Meyer, Fry's, King Soopers, QFC, Ralphs and Smith's, officials said.
Dunham's Sports opened for business July 12 in the west half of the building, which spans about 35,000 square feet. The chain store sells a variety of athletic apparel and equipment, camping, hunting and fishing gear and other outdoor items.
Graff said a small portion of the building - the area formerly used by Walmart as a tire and battery department - is still being marketed.
In recent months, the aging structure was renovated, including work to upgrade the facade and roof. Graff, doing business as Celina Venture, received a $450,000 revolving loan from the county to help finance the approximately $1.1 million project.
Mercer County Community Development Director Jared Ebbing - who helped facilitate the loan to Celina Venture - said the effort helped achieve the goal of promoting economic development.
"We did the revolving loan with the intent for redevelopment opportunities ... as a way to increase the potential in that area. It's paying off," he said.
Walmart vacated the building in May 2005 and moved across the road to a new 204,000-square-foot Supercenter store. Walmart officials held the lease on the former site until 2011, when development plans were finally able to move forward, officials said.