Saturday, July 28th, 2012
Festival off to good start
By Margie Wuebker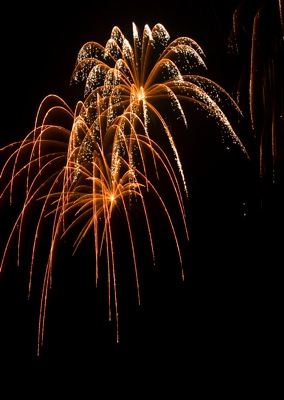 CELINA - The Celina Lake Festival, with events ranging from a water ski show and an amphicar swim-in to sidewalk sales and fireworks, drew visitors from near and far on Friday.
Mary Janeen Dresser and her husband Herbert knew something was up when they came upon orange traffic cones and a speed-radar trailer as they approached Celina on northbound U.S. 127 on their way home to Michigan.
"We found someplace to park and took a look around," she said sporting assorted bags from vendors near Lakeshore Drive. "I found some great things - purses for 50 percent off, jewelry, animal sculptures and even this free popcorn."
Upon learning amphicars would be taking a spin in the lake, the couple decided to stay in Celina for the evening to watch the hybrid vehicles, which they had never heard of, and possibly the fireworks show.
The Spaulding family of Middletown left their Darke County campsite to watch the unusual floating cars too. Brendan Spaulding, 4, likes to get up close in hopes of getting sprayed. His highjinks last year nearly led to an unexpected dip so the boy now is tethered to a kiddie harness.
Vendors served all kinds of food and drinks throughout the afternoon, and many people took the opportunity to indulge in empty calories.
Irwin and Phyllis Foley of Wapakoneta shared a funnel cake dusted with powdered sugar at a shelterhouse picnic table,
"We like to look at all the booths and enjoy some food before heading home, "Phyllis said. "There is a lot of variety at this festival."
From a fish or crab cake "sammich" to deep fried Oreos and Moonpies, there is certainly something for everyone.
A line formed at Grandma Moses' Homemade Ice Cream as the 1928 engine cranked out another 10-gallon batch.
"This is our first year at the Lake Festival," said Alan Wrasman, a worker at the Ottawa-based operation. "The committe called us, and we accepted the invite."
Wrasman and his associates were pleased with Friday's late afternoon crowd, although they expect it to build as "the big attractions" take place.
"Vanilla ice cream and root beer floats are the big sellers," he said.
Visitors of all ages abounded downtown Main Street on Friday. Katy Lamm, the 6-week-old daughter of Craig and Jamie Lamm of Minster, was one of the youngest. Her parents sold tutus with matching wings, colorful flowers and perky bows from their stand.
"This is my first time at the Lake Festival," Jamie Lamm said. "I do better at local festivals because people value handemade things and appreciate the time I put into each thing."
Paul Broxon, of Huntington, Ind., brought his 1962 Plymouth Savoy camping trailer. He came for the cruise-in and plans to hang around most of the weekend.
"I'm going over (to) find some sugar waffles while I'm here," he said with a smile. "We don't have them where I'm from."
Broxon, like a number of other visitors, also came for the elaborate fireworks display. Many said fireworks shows had been cancelled in their communities because of the drought.
"I guess having the display over the lake lessens the chance of fire," he said.
Emmy Hamilton, a Celina native who now lives in Middletown, brought her husband E.J. and their 3-year-old daughter DeVaya to the festival.
"I've been coming since I was born," she said. "It just wouldn't be summer without the Celina Lake Festival."