Saturday, July 7th, 2012
Dancers do-si-do hoping to break Guinness record
By Margie Wuebker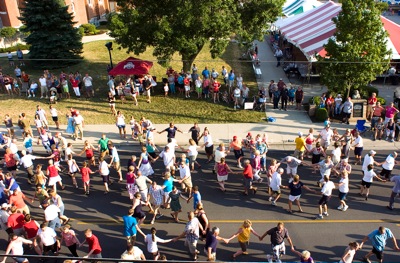 ST. HENRY - Hundreds of people performed the do-si-do, allemande left and promenade along Main Street on Friday evening in an attempt to break the Guinness World Record for the largest square dance.
Caller Fred Bruns of Troy led dancers through "Roll Out the Barrel," "She'll Be Comin' Around the Mountain," "Little Old Log Cabin in the Lane" and the appropriate "Hot Time in the Old Town" on a day when temperatures hit a high of 100 The hoedown was part of the community's 175th anniversary celebration.
Emily Gast-Schlater, who organized the event, credits St. Henry resident Pat Romer with proposing the idea at a Heritage Club meeting. It will take some time for organizers to learn if they broke the record - 800 participants on Dec. 21 in Yorkville, Ill.
Carthagena-area resident JoAnn Kunkler signed up 12 of her 14 children for the event. Grandchildren filled in here and there for three squares of four couples each.
"Most of my children had square dancing in school or they learned at weddings and local dances," she said.
Marie Moorman remembers dancing at the town's sesquicentennial observance in 1987. Western-style square dancers demonstrated their talents amid the swish of stiff crinolines.
"The men all wore long-sleeved shirts because that was the practice," she said. "After all, you didn't want to grab hold of somebody's sweaty arm."
Tom Moorman supervised building a wooden dance floor that was set up in the parking lot behind St. Henry Catholic Church. Dance clubs came from St. Marys, Sidney, Ansonia, Piqua, Troy and Portland, Ind. Ron Everhardt, a retired military man, served as caller.
"It wasn't this hot 25 years ago, and we were a lot younger," Marie Moorman said.
Square dancing in the U.S. began in the New England colonies and followed early settlers southward and westward. By the late 19th century, interest in square dancing waned as couples embraced waltzes and polkas.
Automaker Henry Ford set out to revive the tradition in the 1920s because he considered it good exercise and a way to acquire genteel manners. He hired dance master Benjamin Lovett to develop a national program, required his factory workers to take lessons and opened ballrooms across the country. Folk dance instructor Lloyd Shaw supported the cause in the 1930s by writing books and holding seminars. Standards were developed in the 1950s so dancers could learn routines and patterns for standardized, Western, traditional or hoedown styles of square dancing.
Bruns, who has a band of his own and performs at such local venues as the Osgood American Legion Hall and Romer's Entertainment Center in St. Henry, remembers when square dancing was popular at landmark halls like Eldora, Crystal Ball, Carousel and Lindhaus Park.
"The older generation still enjoys square dancing," he said. "But it appears to be dwindling among the middle and younger generations. I hate to see that happening because it provides good exercise and a whole lot of fun."