Wednesday, August 1st, 2012
Thompson a leader on and off the field
By Ryan Hines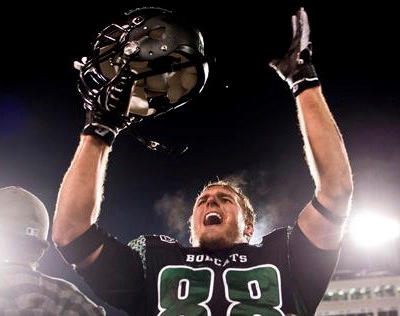 Jordan Thompson's career on the football field has been a journey of adjustments, and the Rockford native has excelled every step of the way.
From his All-Ohio Friday night's starring for the Parkway Panthers to his current status as a two-time captain for the Ohio Bobcats, Thompson has always displayed the characteristics, on and off the field, of an athlete willing to do whatever it takes to achieve his goals.
The path to success hasn't always been easy for Thompson, but dedication, perseverance and an undeniable worth ethic are traits that have aided him through the tough times.
From an early age, Thompson realized that athletics provided him with a key that could open doors to his future.
"I can still remember when my two older brothers were in college, and I was in eighth grade, thinking how expensive it was to go to college," said Thompson. "Right then and there I decided that my goal was to try and use athletics as a way to go to college for free."
However, receiving a Division I football scholarship is easier said than done, and the recruiting process came late for Thompson.
"I finished my senior year of football and hadn't received any offers, but I still wasn't ready to give up on getting a scholarship," said Thompson.
Recruiting was slow despite Thompson's being named Ohio's Division V Defensive Player of the Year as a linebacker, while he also amassed 1,693 rushing yards and another 3,674 passing yards with 50 total touchdowns during his high school career.
"The problem for me was that college coaches didn't see me being a linebacker or quarterback at the college level and that is what I had played while in high school," said Thompson. "I was a hard guy to recruit because coaches were trying to evaluate me to see if I could play another position. They were basically recruiting me based on my athletic ability and whether I would be able to successfully switch positions."
Thompson's hopes for a scholarship rested on whether or not he could play tight end, a position that he had never played through all his years of football.
"I had never caught the ball in a game situation before and I didn't block much because I was a quarterback, but I was all for whatever it would take to play college football," said Thompson. "I never had a problem with switching positions, I was just excited for an opportunity. I now realize how common it is for players to switch positions. I know of at least six of my Ohio teammates that played quarterback in high school that no longer play the position."
College coaches then began to evaluate Thompson while playing basketball as a senior.
"Coaches started going to my basketball practices and games during my senior year to gauge my athletic ability and whether or not I had quick feet, loose hips and if I shied away from contact," said Thompson. "I'm not the most athletic guy in the world, but they felt I could be developed into a football player."
Miami University was the first to officially offer a scholarship to Thompson before Air Force, Ohio and Bowling Green soon followed.
"I really liked the Air Force, but it was too far away from home and I thought I was all set to go to Miami, where Mike Bath (former Celina standout quarterback) was, but I was concerned about he stability of the coaching staff there because they were on the hot seat," said Thompson. "Once I took a visit to Ohio and met coach Solich (Frank Solich), I realized that Ohio was the place for me. He had already coached a Heisman Trophy winner (Eric Crouch) and led Nebraska to a national championship game (2001), so I felt that he was reputable as a coach. He also told me that Ohio was going to be his last job and I believed him."
Thompson was redshirted in 2008 as he began the process of learning a new position.
"I realized my first day of practice the year I was redshirted that all the college players were big, strong and fast, and I realized that I was none of that so being redshirted was the right choice, especially since they also had two senior tight ends at the time," said Thompson. "I was 215 pounds going into college and I added 30 pounds that year by lifting weights nonstop and eating a ton of food. Our team nutritionist at the time told me, 'To get big, eat big, and never let yourself get hungry.' I was eating about every three or four hours at that time."
While being redshirted, Thompson was taught valuable lessons while playing on the Bobcats' scout team.
"I was the low man on the totem pole and it was a learning experience. I was blocking an All-Mid American Conference defensive end every day in practice and there were definitely some struggles. I was 19 and blocking 23-year olds. It was a boy's strength against man strength," admitted Thompson. "Eventually I started to win some of those battles and began to gain more confidence in my ability to play college football as a tight end."
Thompson's growth as a redshirt must have caught the eyes of Ohio's coaching staff as well because Thompson was a starter for the Bobcats in 2009 as a redshirt freshman. Thompson caught seven passes for 109 yards and helped Ohio (9-5) reach the MAC championship game.
Thompson made a giant leap as a sophomore in 2010 and caught 21 passes for 204 yards and three touchdowns while earning second team All-MAC honors. Ohio also reached the New Orleans Bowl that season, losing to Troy, and finished with an 8-5 record.
"The game really started to slow down for me during my sophomore year," said Thompson. "I really think that year I turned the corner."
Last season, Thompson was voted as a captain by his teammates and then went out and made 24 receptions for 258 yards with two touchdowns while also helping the Bobcats reach the MAC title game for the second time in three years and a berth in the Famous Idaho Potato Bowl. Ohio finished 10-4.
"Last year was the highlight of my collegiate career so far because we won our first Bowl game in school history (24-23 over Utah State)," said Thompson. "Ohio football has been irrelevant for so many years that it was a historic win for us and something that people will remember forever."
A week ago, the MAC held its media day and Ohio was picked as the preseason favorite to win the conference title this year. Thompson, who was named a captain for the second straight year, is excited about the possibilities this season.
"That's just a prediction, but it's a great thing because I think that Ohio has gained the respect to be mentioned as the favorites in the MAC," said Thompson. "It's a fun time to be a Bobcat, and as a two-time captain, it's my responsibility to make sure that we work as hard as we can and keep our eyes fixed on our goals for another successful season."
With all of the success on the field, it's easy to overlook his contributions off the field, but aiding the Athens community is a major part of Thompson's life.
"I have always tried to be involved in the Athens community because I realize how lucky I am to be in this position and I just want to give back what I can," said Thompson, who has earned a degree in engineering technology and management. "Whether it's reading with elementary students or helping out with the local boys and girls club, being involved in the community is something I cherish.
Ohio's tight ends coach Brian Haines certainly speaks highly of Thompson.
"Jordan is a high-character guy with a great reputation and that's why he is a two-time captain for us," said Haines. "He is as dedicated a teammate as you will find in college football. He has been a pleasure to coach."