Thursday, August 2nd, 2012
Sheriff investigates dog's death
Canine overcome in hot, parked patrol car
By Margie Wuebker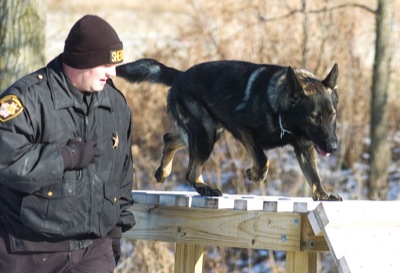 The Mercer County Sheriff's Office has suspended its K-9 program after the death of the department's second German Shepherd in two years.
Deputy Zak, who joined the department in 2010, was found dead inside a cruiser about 1 p.m. Wednesday by his handler, Deputy Chad Fortkamp.
Fortkamp, who normally works the evening shift, had come to the sheriff's office to assist with reconstruction work related to a July 14 traffic accident that claimed two lives near St. Henry.
Despite temperatures in the 80s, neither the cruiser nor the air conditioning was running at the time.
"It appears Zak was overcome by the heat," Sheriff Jeff Grey told The Daily Standard. "The veterinarian who performed the autopsy stated that a perfectly healthy dog would not have survived the heat."
The canine had been diagnosed with a heart condition. However, veterinary specialists at The Ohio State University said he could continue to perform his duties.
Grey said it is department policy that when at the office, the K-9 cruiser is either left running with the air conditioning on or Zak comes into the building.
Fortkamp, who has been a sheriff's deputy since 2001, remains on duty as the internal investigation continues.
Chief Deputy Gery Thobe said officials will determine how long the dog had been in the car; why Fortkamp brought the dog when neither was on duty; and what automotive defect could be involved.
"Investigators will talk with Chad to get some of those answers," Grey said. "He was extremely upset Wednesday afternoon and he needs a little time to come to grips with what happened.
Once the investigation is complete a decision will be made on whether the department's standards of conduct were violated. If wrongdoing is detected, the next step is a pre-disciplinary hearing.
Grey declined to comment on possible disciplinary action.
The sheriff's office K-9 program was re-established in 2007 with the acquisition of Deputy Bleck, also a German Shepherd. Bleck died on August 2010 as a result of an intestinal obstruction. Fortkamp also was Bleck's handler.
In 2010, the Celina Moose Club donated $5,000 and the Celina Eagles added another $1,500 to purchase Zak.
"A lot of money has been invested in these two dogs and I cannot justify the purchase of additional canines given our track record," Grey said.
Two police dogs perished recently in a sweltering car in Bexar County, Texas, near San Antonio. The responsible deputy has been placed on leave pending the outcome of a continuing investigation.
Dogs have a harder time controlling their body temperatures in hot weather because they do not have as many sweat glands as humans.
Scientists at San Francisco State University's Department of Geosciences indicate the temperature inside a vehicle on an 80-degree day can reach 123 degrees within an hour.
"All summer we hear reports urging people not to allow children or animals to remain in a hot car," Grey said. "And then something like that happens under our own watch."
Attempts to contact Fortkamp were unsuccessful this morning.
- The Associated Press contributed to this report.