Friday, August 10th, 2012
Local lifters to represent Team USA
By Gary R. Rasberry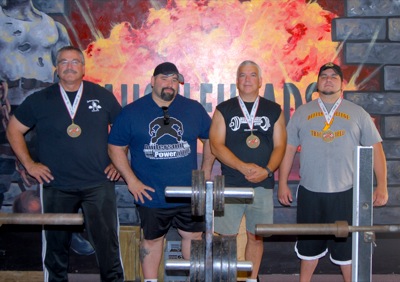 CELINA - Even though they would be lifting hundreds and hundreds of pounds over the next few hours, the group of powerlifters working at Musclehead's Gym in Celina starts simple - with an empty bar.
The bar will be stacked eventually, with sometimes seven weights stacked on both ends as they get down to hard work.
The hard work has paid off for four regular lifters at the small gym, as Celina's Mike Wolfe, New Bremen's Randy Francis, Minster's Randy Houseworth and Defiance's Danny Rodriguez were selected to be a part of Team USA for the World Powerlifting Congress' World Powerlifting Championships, which will be held in November at Las Vegas. The quartet earned their honors with solid efforts at the Cam-Am Border Wars tournament held in July at Detroit. The top-three finishers in Detroit, and anyone who set world records, have been invited to the World Powerlifting Championships competition, which has also been held in locales like Latvia and Finland in the past.
The four lifters range in age from 30 to 57 and have occupations that range from a restaurant manager (Rodriguez) to safety director at Crown (Wolfe) to furniture store owner (Francis) to law enforcement (Houseworth, the chief of police in Minster).
Houseworth, who set a world record in Detroit with a top bench press of 205 kilograms (451.9 pounds) in the Raw (tradition bench-pressing with gloves and weight belt), got his start in weights at New Bremen High School during the early 1970s when the football program got started.
"Nothing compared to what we do now," said Houseworth about his start with weights. "That was my start. My first competition was in 1975. It just progressed from there.
"I've competed in some international (events), but it was always in international law enforcement events (in 1994, 1995 and 1996). This is the first one that isn't law enforcement-related. It's exciting for me to go against people who aren't in law enforcement. It's open to everybody."
Houseworth and Francis, both 57, compete in the Masters' Division. Francis admits to being a late bloomer to the competitive world of powerlifting.
"I never really started lifting serious weights until I was 30 years old," said Francis, who also set a Masters' world record in the 181-pound Equipped class (in which competitors wear a special shirt that helps enhance lifts) with a top bench of 170 kilos (almost 375 pounds). "I did it at the old health spa (New Life, which was located where CVS currently resides) and the Y (YMCA). I did that for years to stay in shape. I didn't do my first competition until I was 50 years old. ... I did pretty good for my age and weight class."
"You have to dedicate yourself," said Wolfe, who manages the gym and finished second in the Open Superheavyweight class. "It's a job. I work 40-45 hours a week at work and then I come in and put in 10-12 hours a week doing this. It's definitely dedication. To get to this level, you have to be dedicated. It's a lifestyle for me. It's what I know. It's a hobby and a passion. Lots of people do different things. Some play softball. People read books. We lift weights."
For Rodriguez, the dedication means a three-hour round trip from Defiance to train twice weekly - usually Wednesdays and Sundays.
"In Defiance, there aren't many gyms," said Rodriguez, who won the 275-pound Equipped Open group with a top effort of 227.5 kg (501.6 pounds) . "(I don't know) anyone but one person (there) that trains. You can't do this (in Defiance). A lot of guys travel to train. You do what you've got to do. I like training and want to keep competing."
"Danny drives an hour-and-a-half (one way) to train. Randy and Randy come from out of town," said Wolfe. "In the sport, we're such a small sport itself. We're not NFL football or anything. It's a small aspect of the weightlifting world, but you have to seek out the people that know. Seek out spotters to crawl under the weights they do. The stuff we do week in and week out, you can't do that at home by yourself. We crawl under 500, 600, up to 800 pounds per week. You have to have spotters, usually more than one."
It's not a genteel competition. The spotters and teammates are shouting encouragement and even do a bit of trash-talking with their teammates to help motivate.
"We do a lot of trash-talking to each other to get each other motivated. Motivational talks, I guess, and get in each other's face and ears," said Wolfe. "That's why we opened this place, because we got tired of people telling us what we could or couldn't do. We couldn't go to a normal family fitness center. I like to tell people 'We scream, we yell, we cuss and fart.' Things we couldn't get away with in a normal gym. We're a lifters' gym for lifters."