Tuesday, August 14th, 2012
Homan adjusting to changes
By Gary R. Rasberry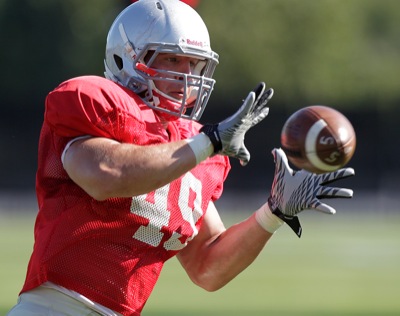 It seems hard to believe that Adam Homan is a senior in college.
The Ohio State fullback/special teams player can't believe it himself.
"The past years have gone extremely fast," said Homan via telephone during the Buckeyes' media day on Sunday. "I'm ready to go out this season with a good taste in my mouth with a lot of the guys I came in here with that are still here. We're battling for each other. That's what this season is really about."
The past couple of seasons have been tough on Homan and his teammates. Rules violations two years ago resulted in the dismissal of long-time coach Jim Tressel and Ohio State was hit with NCAA sanctions, which means the Buckeyes will not participate in a postseason bowl game and are ineligible to compete for a Big Ten title this season.
With Urban Meyer coming in to take over the program from 2011's interim coach Luke Fickell, who stays on as defensive coordinator, the program has gone through some drastic changes of late.
As he enters his senior season, Homan has a lot of respect for Meyer and what he has done with his changes to the program.
"He's very intense. He runs a tight ship," said Homan. "Everybody has to be where they're at, at the time they're supposed to be here. Everyone's done a very good job of it. ... It's meant to be that way at Ohio State.
"He gives 100 percent to Ohio State everyday. He's a man of great faith. He absolutely loves his family and he loves us. He's going to do everything to help us achieve greatness," added Homan.
Homan, a two-time Academic All-Big Ten selection, has continued to work hard at whatever is needed for the team, especially with coach Meyer instituting a new offensive scheme that will spread the field.
"Just with the new offense, there's different techniques," said Homan. "Different things that we have to do that are different than what we did in the past. That has been a challenge, but I think all of us are taking on that challenge and trying to do the best we can running the new strategy."
Homan is no stranger to Buckeyes' new offensive style, having worked as a fullback in the Cav-Gun offense under John Reed during his playing days at Coldwater High School.
"It has been three years since I've seen that," said Homan of the spread offense. "You catch on to certain things and certain similarities. The offense as a whole is different than it has been the past three years. It's kind of exciting learning a different way to run the spread."
Homan said that whatever the coaching staff asks him to do, he'll be there to take on that challenge.
"I'm here for whatever the coaches need: special teams, whatever job I can fill," said Homan. "Whatever I can do to help this team win and be there for the teammates I love. ... I'll do whatever I can to help them."