Thursday, August 16th, 2012
Wenning thriving as team leader for Ball State football
By Gary R. Rasberry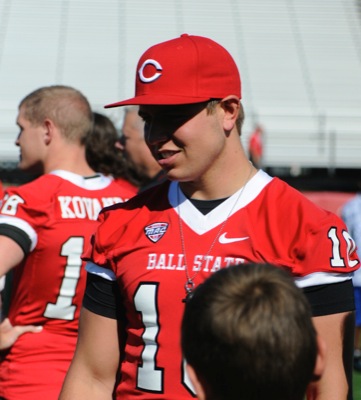 MUNCIE, Ind. - It doesn't surprise any of the coaches at Ball State that Keith Wenning wasn't satisfied after last season.
Despite helping his team to their best finish since 2008 and getting the Cardinals bowl eligible, Wenning knows he can do better.
The Ball State quarterback and Coldwater High School product is under three weeks away from opening the college football season and he cannot wait to get down to business.
"Practices and camps are long (and) tedious, doing the same stuff," said Wenning during the Ball State FanFest and media day at Scheumann Stadium in Muncie. "We still have a lot to do in camp. By August 30 (when the Cardinals open at home against Eastern Michigan), we'll be ready."
After starting some as a true freshman in 2010, Wenning got the full-time starting job last year under new coach Pete Lembo.
"He's not the most outgoing on the team, but when Keith Wenning speaks, these guys listen," said Lembo. "I really like how he has taken control of the offense."
Wenning had a solid 2011, throwing for 2,786 yards and 19 touchdowns, although he did throw 11 interceptions as the Cardinals went 6-6 overall and 4-4 in Mid-American Conference play. The six wins made Ball State eligible for bowl consideration, although the Cardinals were not invited to any bowls.
Even with the solid numbers, Wenning was not satisfied with his play and knew what he had to work on during spring practice and summer workouts.
"Something I noticed myself is being more consistent with my foot work," said Wenning. "Being more accurate than I was, less interceptions. I'm not satisfied with my numbers last year. I'm trying to get better in every phase."
Lembo wasn't surprised that Wenning wasn't satisfied.
"He shouldn't be," said Lembo. "I really believe he has the potential to be one of the elite quarterbacks in the conference. Will that happen this year? Will it happen next year? We'll find out soon enough. I believe he can be that guy. That's the challenge to him."
Wenning's work on and off the field has drawn the respect of his teammates.
"The other thing that speaks volumes on how hard Keith has worked is the fact that he was named a captain by his teammates as a junior," said Lembo. "We have really solid seniors on this team and here they are voting Keith, as a junior, captain. That says a lot."
Rich Korsky, the Cardinals' offensive coordinator and quarterbacks' coach, has seen Wenning's improvement.
"Since we got here, Keith's work ethic is unmatched," said Korsky. "Just to go back. We've been here 18 months. When we first got here, Keith was 240 pounds, and kind of not a great 240. You look at him now, he's down to 225, his abs and core strength has improved. This summer he has kept getting better. He has watched a lot of film and ran all the passing sessions we had all summer long. He really got connected with the receivers in the offense in addition to what he did from the strength and conditioning standpoint."
Wenning and his teammates know that they have the potential to be better than last year's record and get the Cardinals back to a bowl game for the first time since 2008.
"We're definitely confident we can go better than 6-6 this year," said Wenning. "We have a tough schedule (road trips to Clemson, Indiana and Army) and the MAC's (Mid-American Conference) tough every year. We're confident in ourselves and we have a good feeling getting to a bowl game."