Monday, August 20th, 2012
Allen finds hot streak late
By Gary R. Rasberry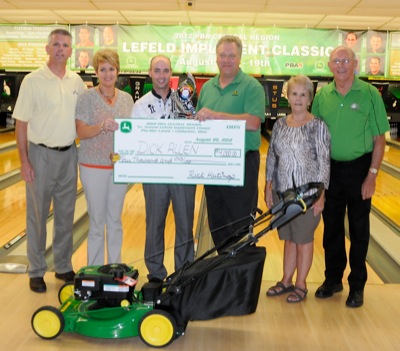 COLDWATER - Dick Allen found the perfect time for the strikes to start falling.
The Columbia, S.C. native bowled five straight strikes over the last five frames to pull away from Joe Ciccone and win the 2012 Lefeld Implement Classic PBA Central Region bowling tournament on Sunday at Pla-Mor Lanes in Coldwater.
Allen credited a change in bowling balls during the match as helping him find his hot streak.
"It was kind of a sketch move, but it really worked out," said Allen, who won his 13th regional title to go with three PBA national titles. "It really worked out. I needed some angle on the back and a little more pick-me-up on the ball to knock out the corners. That was the key. It was a big change."
Ciccone, who entered the four-man stepladder final round as the second seed, rallied to beat Brian Thompson 213-211 in the semifinal match after Thompson beat PBA Hall of Famer Parker Bohn III 212-190 in the first stepladder match.
Allen started the championship match with a strike, with Ciccone rolling a nine-spare in the first frame.
The next four frames were a battle of back-and-forth spares by both bowlers, with the score tied up at 95-95 after five frames of action.
"Bowling in the very last match, the nerves tend to get you," said Allen, who earned the $4,000 winner's check and a new lawnmower presented by tournament sponsor Lefeld Implement. "You don't want to be super-aggressive, not overdo it. You have to trust your fundamentals and go to the things you practiced to get you there."
Both bowlers rolled a strike in the sixth and seventh frames, but in the eighth, Ciccone's first roll left a pin standing, which he converted to a spare. Allen rolled a third straight strike - better known as a turkey - in the eighth, then rolled a fourth straight in the ninth.
In the 10th frame, Ciccone rolled two straight strikes and posted an 8 to finish with a final score of 211. Allen just needed a mark - a strike or spare - to clinch, doing so with a strike to give him an aggregate score of 215. On the second roll of the 10th, Allen left three pins up but converted the spare to finish with his 232.
"This is the first time I've won with Motiv, my new company (sponsor)," said Allen. "I finished second last week (at a PBA South Region tournament in South Carolina), so it was kind of a relief to really make sure I pulled off the victory this time."
Allen enjoyed the weekend at Coldwater.
"It's a blast," said Allen. "The smaller (bowling) centers, the smaller venues where you can get more people packed in, it makes it exciting. The air gets a little thicker. Great field of bowlers as well as people who came out to watch from around here. Amazing little town and a great state. I really look forward to coming back next year."
Ciccone collected $2,300 for finishing in second place. Thompson and Bohn III won $1,600 and $1,400, respectively, for third and fourth.
Wapakoneta's Todd Book just missed the final four and collected $1,150 for fifth place. Book was the only local bowler to advance to Sunday's championship rounds. Coldwater graduate and University of Northwestern Ohio bowler Toby James was the next highest local finisher with a 46th-place showing while Celina's Tyler Shellabarger was 47th.