Monday, August 27th, 2012
Redskins fall to Vikings in state champs' matchup
Mercer Health Cavalier Spikeoff
By Gary R. Rasberry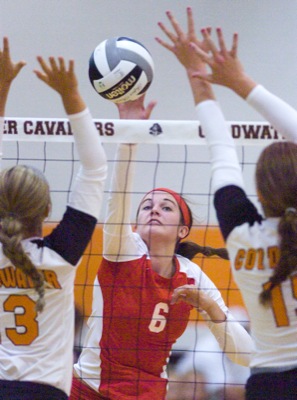 COLDWATER - If anything, Saturday's play could be a good omen for St. Henry volleyball coach Diana Kramer.
For the second straight year, St. Henry won its first two matches at the Mercer Health Cavalier Spikeoff tournament to advance to face Miami East in the title game.
And for the second straight year, the Vikings prevailed, winning two games to one in the final against the Redskins at The Palace in Coldwater.
While the Redskins took a loss for the second straight year against Miami East, the defending Division III state champs, the loss in 2011 was the only blemish as St. Henry won the Division IV state title.
"Hopefully, the season works out that way again this year," said Kramer with a smile. "Miami East is a great team and most of their girls returning, and we have a whole new group out there (just two key players from last year's team). It was very encouraging that we could compete with them. No matter who's out there, we're going to play St. Henry Redskin volleyball."
St. Henry got to the finals with two-game wins over St. Marys (25-20, 25-18) in the first round, followed by a hard-fought battle against backyard rival and tourney host Coldwater in the semis. St. Henry went up 8-1 early in the first game before the Cavaliers came back and took a lead. St. Henry rebounded to win 25-15 in the first game, followed by a 25-20 in the second game to get to the finals.
In the opening game of the finals, the teams traded points for most of the game, but the Vikings were able to edge ahead thanks to solid hitting from Sam Cash, Abby Cash and Leah Dunivan to win the opener 25-20.
St. Henry refused to stay down, taking control of game two thanks to a great service run by Taylor Clune to go ahead 20-15, then holding off a late charge to force a third set with a 25-21 win.
Miami East took advantage of some hitting errors by the Redskins in game three as the Cashes and Angie Mac took over down the stretch to take the match with a 25-15 win.
Vikings' coach John Cash knew the tournament would be a challenge, proven that the eight teams were a combined 156-51 last season.
"This is what you come to these tournaments for: to see what your mettle is made of," said coach Cash. "Even though we returned a lot of kids (only two seniors lost from last year's team), it's a different year. ... You want to play the best competition, this is the best tournament in the state. That's why we came back. It proved so again."
"Top to bottom, it was competitive on the day," said Kramer. "That was a great test. We started the season with great competition. We're going to play strong competition the entire season, I wouldn't want it any other way. We had our ups and downs today, but overall I was pleased how we played today. We pushed Miami East to their limit. We're still learning and getting better."
The host Cavaliers had a chance to win the third place match when they faced Fort Loramie, but the Shelby County squad proved too much in moving the Cavs to fifth place with a 25-17, 25-22 win.
"It's a top-notch tournament," said Coldwater's coach Mike Etzler, whose team won their opening match 25-15, 25-20 over Liberty-Benton. "... Going 1-2 on the day in a tournament like this, it's a good start. We saw some great things, but we also saw some things that weren't very good."
In the other placement matches, New Knoxville, who defeated Ottawa-Glandorf in their second match of the day, took sixth place as Liberty-Benton took fourth with a 25-23, 25-23 win. St. Marys went winless in the tournament despite some solid performances early. The Roughriders lost the seventh-place match to WBL rival O-G 25-18, 25-9.