Friday, August 3rd, 2012
U.S. 127 Yard Sale
Thousands from across the U.S. flock to find bargains, treasures
By Betty Lawrence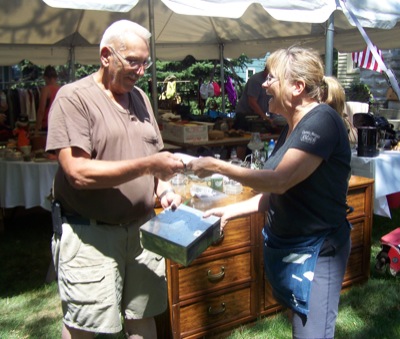 Set it out and they will come.
That's the philosophy of thousands of people - from Michigan to Alabama - who are hosting a yard sale along U.S. 127 through Sunday.
And come they do, from all over the United States.
Ray Luttman, of Watertown, N.Y., pored over items set out at the home of Pete and Joyce Hierholzer on North Main Street in Celina.
"I started out in Michigan on Tuesday and plan to do the whole (127 sale route) thing. My truck's already half full and if it gets full, I'll just rent a trailer too," Luttman said as he looked at a chrome box.
"I was setting up for the sale and wasn't even open yet and people were stopping, wanting to buy, so I just let them. I do enjoy this, though, when I'm ready," Joyce Hierholzer said, adding that getting ready for the sale is a lot of work.
"My husband said this is the last year," she said smiling.
The annual rummaging route billed as the World's Longest Yard Sale, meanders along 675 miles of U.S. 127. Sales traditionally are open for business Thursday, Friday and Saturday, although some open earlier.
Loading their cargo van to the hilt with everything from a wicker couch to an old set of double washtubs were Bill and Ginger Loy, who call Decatur, Ind., and the state of Georgia their home.
"My daughter is having a country wedding in Georgia and these old tubs will be perfect for it," Ginger Loy said.
"Ever hear of shabby chic? Well, that's what this is," Ginger Loy said as she loaded a cool blue painted wooden chair and small painted white table into the van.
"We are finding a lot of really good, quality things and this van is going to be cram-packed. But we'll get everything in. We've done this many times," Bill Loy added.
Cindy Grapner, of 651 N. Main St., watched as people picked through her sale items.
"It's enjoyable, having a sale. You meet all kinds of people and one of the people that stopped said they were going to do the whole 127 sale. They planned to do one state a day," Grapner said.
"It's been a long day already, but it's fun, too," noted Kelly Hone of Celina on Thursday as she waited on customers.
"Last year, I brought up all the stuff from the basement and now, this year, I'm finding more stuff since my daughter's downsizing," she said.
This is the 25th year since the inception of the U.S. 127 Yard Sale, reportedly begun as a way to get travelers off the interstate highways to see local sights and boost commerce in rural areas.
Celina has been an active participant for the past seven years and the sale brings a lot of business to the town, officials claim.
Desk clerks at the Holiday Inn Express and America's Best Value in Celina report yard sale guests are lodging there, and restaurants report larger than normal crowds.
"Anytime we have an event that brings people from out of town to our area is a good thing. We're tourist oriented here and the yard sale has kind of taken a life of its own," noted Celina-Mercer County Chamber of Commerce Director Pam Buschur.
Yard saler Ron Wilkins, currently of Haines City, Fla., and formerly of Celina, summed up the entire yard sale craze in a few simple words.
"You never know what you will see that you absolutely have to have," he said.