Friday, August 31st, 2012
No txt 4 u
New rules for drivers start today
By William Kincaid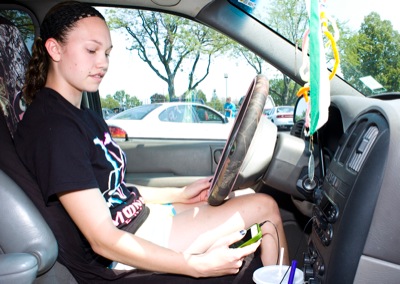 Thumbs off the keyboard.
The state ban on texting for all drivers and the forbiddance of teenagers from using any electronic device while at the wheel begin today.
Ohio's new law makes texting behind the wheel a primary offense for those age 18 and younger, which means it can be the only reason to be stopped by law enforcement. The action is a secondary offense for adults; they have to be pulled over for speeding or some other infraction before they can get a ticket.
For the first six months of the new law, police and state troopers will issue just warnings - instead of $150 tickets.
Local officers are supportive of the new mandate to improve safety on the road but have concerns about enforcement.
Celina Police Chief Dave Slusser said if the idea of banning texting while driving is worthy enough to be addressed in legislation - which he thinks it is - then it should be done right. He is disappointed that it, like the seat belt law, is a secondary offense for adults.
"Both of those are issues that can lead to tragic traffic crashes," he said. "I think it (texting) has played a role in some of the crashes we've had."
Mercer County Sheriff Jeff Grey agrees.
"Write the law and give us the authority to enforce it," Grey said this morning. "Don't tie our hands behind our backs."
When considering new laws, legislators need to work with state sheriffs, highway patrol officials and police chiefs to determine what can reasonably be enforced, he argued.
Grey said deputies are not going to follow texting violators for miles waiting for them to commit a primary offense so they can be pulled over.
"That's just silly," he said.
However, Grey believes the intent of the law is good and likely will bring about safer roads not through its enforcement but because a majority of people want to be law-abiding citizens.
Auglaize County Sheriff Al Solomon believes the texting ban is good, but it might have some kinks.
The law, passed by the state legislature this year, restricts juvenile drivers from using cellphones, iPods, laptops or any other electronic device while driving.
"It's going to put some pressure on law enforcement dealing with someone under 18 to be able to prove and tell the person was actually on the cell phone (at) the time," Solomon said.
The measure allows all drivers to text and use their cell phones in cases of an emergency and when the vehicle is stopped and off the road. Other exemptions include using a hand-held device for navigational purposes.
"I don't think it should be iPods," Kylie Keller, a junior at Celina High School said Thursday, explaining she uses the device to listen to music in her van.
Bobby Mattraw, a junior at Celina, said he doesn't text while driving.
"I think it's a good idea," he said, adding that teen drivers need to keep their eyes on the road.
A recent study by the AAA Foundation for Traffic Safety found that electronic devices are the leading cause of distraction among teenage drivers.
The law makes texting while driving a misdemeanor, with possible fines of $150. Minors can be fined $150 for the first offense and have their driver's license suspended for 60 days. Repeat teen offenders can be fined $300 and have their license taken away for a year.
State Rep. Rex Damschroder, one of the sponsors of the bill, said he plans to introduce legislation in the future that makes texting while driving a primary offense for adults, too, not just juveniles.
Sgt. Kristina Bennett of the Wapakoneta post of the Ohio State Highway Patrol said distraction due to electronic devices has caused accidents, both minor and serious. Many times people involved in minor fender benders are embarrassed to admit they were texting, she said.
"We believe the biggest impact will be in the public awareness that this is now against the law," said Jay McDonald, president of the Ohio Fraternal Order of Police, which supported the measure. "It's going to be a law that's going to be hard to enforce, but we're hoping people will now realize it's against the law, and the deterrent that comes with that will lead to a decrease in the people who do text and drive."
Ohio becomes the 39th state in the country to ban texting while driving, according to the Governors Highway Safety Association. Many Ohio cities already have their own texting-while-driving bans, and state law doesn't trump those ordinances if they are tougher.
- The associated press contributed to this story.