Wednesday, September 5th, 2012
Bulldogs blank Roughriders 5-0
By Gary R. Rasberry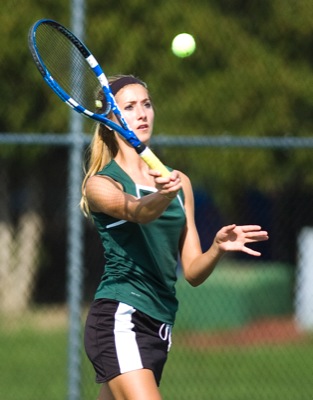 CELINA - The final score might not reflect it, but St. Marys was a challenging opponent for the Celina girls' tennis team on Tuesday afternoon at the Booster Club Tennis Complex.
Celina improved to 5-0 in Western Buckeye League play after a 5-0 sweep over the rival Roughriders.
Although the Bulldogs posted a shutout, the Roughriders were competitive in most of the five matches.
"The scores looked like they were easy, but I didn't think they were as easy as they looked," said Celina's coach Jan Morrison. "St. Marys made us hit a lot of balls. The set scores weren't as close, but games were close. It was back and forth. St. Marys is a pretty steady team."
Roughriders' coach Brice Brenneman was complimentary of the Bulldogs.
"We played well in spots, at times, but Celina was very consistent," said Brenneman. "When we had a chance to do something, they closed the door on us. We had a good showing at second singles in the second set. Second doubles had a shot and we played well at third singles in stretches. Pretty competitive just about everywhere, but couldn't get over the hump. Celina's got a real solid team."
At first singles, St. Marys' Katie Peterson battled Brianna Beougher in the opening set before Beougher prevailed 6-4. It was all Beougher in the second set as she rolled to a 6-0 win.
Celina's Miranda Werling opened her second singles match with a 6-1 win in the first set over Emily Brown and then Werling outlasted Brown in the second set for a 6-4 victory.
At third singles, Celina's Sasha Jenkins defeated Anna Ernst 6-1 and 6-3.
Celina's first doubles team of Katie Kerr and Leah Rose continued their strong season by beating the Roughriders' sister tandem of Ariel and Priscilla Dodson (6-0 and 6-2) in the quickest match of the day.
The most interesting match was at second doubles as Brooke Sutter was without regular partner Kalee Gardner due to illness. Junior exchange student Laura Mayoral, playing her first year of tennis, took Gardner's place as Celina faced St. Marys' duo of Haley McGee and Abby Wilker. Sutter and Mayoral took the opener 6-3, but Wilker and McGee battled back and held a 5-4 advantage in the second set. Sutter and Moyoral rallied to win the last three games to claim the set and match 7-5.
"She's a paddle-ball player," said Morrison of Mayoral. "She's come on real quickly. She hasn't played a lot of tennis before, but there's a lot of carry over. She did a nice job out there. She stepped up when we needed her."
Celina is back in action on Thursday with a road trip to Van Wert (3-1 WBL). St. Marys (3-2 WBL) hosts Defiance (1-2) on Thursday.