Friday, September 7th, 2012
Roughriders post shutout over Cavs
By Gary R. Rasberry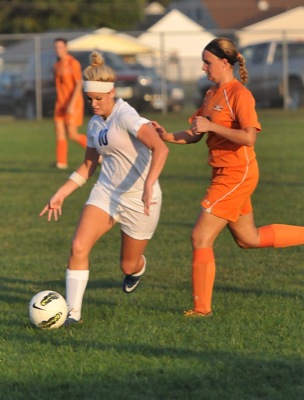 ST. MARYS - Despite a solid defensive effort by Coldwater, St. Marys scored a trio of goals before Mother Nature ended the game prematurely with the Roughriders earning a 3-0 victory over the Cavaliers.
The match was halted with 21:37 left in the second half when lightning was spotted in the area. After nearly 30 minutes of waiting and with lightning still detected, the game was called official.
It only took 96 seconds for the Roughriders (5-0) to go ahead as Sara Little kicked the ball from outside the box past Cavaliers' goalie Krista Wellman with 38:24 showing on the clock in the first half.
St. Marys booted 15 shots on goal in the first half but Wellman (eight saves) and the Cavs' defense stood tall.
"They had 11 girls on their side of the field," said Roughriders' coach Paul Dingledine. "That makes it tough sometimes, but we had shot after shot, just couldn't find the back of the net. (Wellman) did a pretty good job back there for a while. We just need to work on some things and get ready for next week."
With the clock under a minute remaining in the opening half, St. Marys was able to take a 2-0 lead. The Roughriders' Kelly Heitkamp dribbled in and kicked a soft shot at the goal. Wellman, who happens to be a cousin to Heitkamp, looked to have made the diving save but lost control of the ball as it narrowly crossed the line for a goal.
Coldwater's lone shot on goal came early in the second half but Roughriders' goalie Paige Dicus made the save.
With 25:49 on the clock, the Roughriders took a 3-0 advantage when Kelsey Rohrbach took a pass from Kristin Dammeyer and put it into the back of the net.
"We took a lot of punches. Some of it was good defense and some of it was we got lucky on some bounces," said Coldwater's coach Scott Brinkman. "When you work hard, as I told the girls, that's all we can do. (St. Marys') talent level is better than ours. The only chance we had was to play as hard as we can. If we can do that, we have a chance to stay in it. We stayed in it. We still had 20 minutes to go (in the game). With that kind of time, who knows. Three-nothing could have easily turned into 6-0."
St. Marys' junior varsity picked up a 2-0 win over Coldwater.
The Roughriders return to action on Monday, hosting Bath in Western Buckeye League play before the annual battle against rival Celina on Thursday. Coldwater is back in action on Saturday, traveling to Vandalia to face the Vandalia-Butler Aviators.