Wednesday, September 12th, 2012
Celina and Wapak end up tied
By Gary R. Rasberry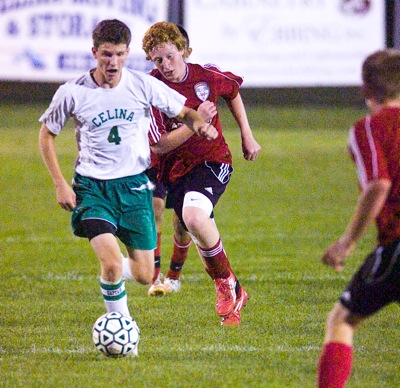 CELINA - Despite a solid effort, Celina's boys soccer team is still searching for their first win of the season.
Celina, which had lost five straight games to open the season, held a 3-2 lead after the first 40 minutes of action against Wapakoneta during Tuesday's Western Buckeye League matchup.
However, Wapakoneta scored with 32:13 left in the match and neither team capitalized on scoring opportunities down the stretch as the match ended in a 3-3 tie at Celina's Soccer Stadium.
Celina is now 0-5-1 overall and 0-2-1 in the WBL while Wapakoneta stands at 1-3-4 on the season (0-1-2 WBL).
Although it wasn't a win, Celina's head coach Ryan Jenkins was happy with the Bulldogs' effort.
"I was happy with how we played," said Jenkins. "We definitely made some mistakes, but there were some positive things we did. We were able to finish a few (shots) tonight. Kind of broke our losing streak. Wasn't a win, but it wasn't a loss. It gets us moving in the right direction.
Celina, which hadn't played in five days because of Saturday's match against Greenville being cancelled, came out firing against Wapakoneta. Nate Post scored twice within a span of nine minutes to give the Bulldogs a 2-0 advantage with 26:20 remaining in the half.
Wapakoneta then rallied back as Travis Bertram broke free from Celina's defense and scored with 25:38 showing on the clock. Five minutes later, a Celina attempt to clear the ball from the penalty box ended up rolling past keeper Lucas Warner for an own goal to tie the match at 2-2.
With 18 1/2 minutes left in the opening half, Celina's Ryan Hoyng was able to break free from a Wapakoneta defender and the Bulldogs' sophomore booted the ball past goalie Matt Ewing for a 3-2 lead.
Wapakoneta evened the score with 32:13 left in the match when Bertram fired a pass into the box to Anthonie Phommachanh, who headed it past Warner for the tying goal.
During the final 30 minutes, both teams had chances to score but came up empty. Celina could not take advantage of Wapak's playing a man down for the final 4 1/2 minutes after a red card had been issued. Eric Moeder and Cody Flaute each had chances to score for Celina, but missed.
"We kind of had the momentum in the first half. (Wapak) had more of the momentum in the second half," said Jenkins. "It went back and forth through the night. It was two hard-working teams and it ended in a tie."