Friday, September 14th, 2012
OHSAA's Ross speaks on sports issues
By Gary R. Rasberry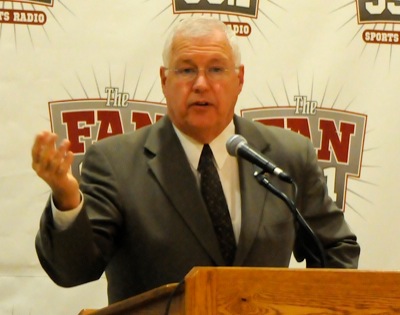 LIMA - It wasn't much of a surprise as to what the main topics of conversation were when Ohio High School Athletic Association commissioner Dr. Dan Ross took part in a town hall meeting on Thursday at the University of Northwestern Ohio.
The on-going debate about competitive balance and the possibility of a referendum on splitting public and non-public schools into separate tournaments took up a large part of the nearly two-hour session.
Dr. Ross noted that the question of whether to divide the public and non-public schools into separate tournaments will likely be on the annual referendum ballot that will be sent out in May 2013. A group of administrators from Wayne County pushing for the referendum question is the same group who established the competitive-balance initiative the past two years (both times narrowly defeated).
Ross was direct in offering his opinion on the matter, which has been put up for a vote twice before, in 1978 and 1993, and was defeated by a large margin in both instances.
"I am not in favor of separate tournaments," said Ross, who noted that only two states - Virginia and Maryland - have separate public and non-public tournaments. "Never been in favor of separate tournaments. I believe we have some of the best tournaments in the country. I think a lot of other people in other parts of the country believe (that). I am in favor of trying to modify what we do so we can deal with this issue shortly. If we can do something in the middle to try and modify the system, that is what we should do."
Ross also noted that if the referendum passes and is implemented, and the non-public schools choose to leave the OHSAA, another referendum proposal prohibiting OHSAA schools from playing non-OHSAA schools would also likely be presented.
Delphos St. John's football coach and athletic director Todd Schulte noted that the debate for competitive balance heated up after the Blue Jays won the Division VI state football title in 2011 by a 77-6 margin over Shadyside.
"Looking at that game, and going into it after the final score, we kind of became the poster child of what came next, which was competitive balance," said Schulte, who was joined by Van Wert's boys basketball coach Dave Froelich, Lima Central Catholic's athletic director Ron Williams and Lima Senior's football coach Brent Lee as part of the forum panel. "There was articles coming out from Akron and Canton. ... It was a sticking point for us."
Ross supported Schulte and St. John's in the way they handled themselves in the state game.
"I was at the game standing on the sidelines," said Ross. "Todd, his coaches and kids did everything they could to keep the score down. They were as sportsmanlike as you can ever possibly be. They did nothing wrong."
Also brought up on the night was the topic of recruitment by private schools as opposed to open enrollment by public schools.
"I think the thing people must understand is that a private school has to recruit every kid that walks through the door. (At a) public school, you're allowed to attend that school district if your mom and/or dad live there," said Ross. "If you move in (to a district), that public school is always available to you. A non-public school has to bring kids in. Our issue is they shouldn't be recruiting athletes as athletes. They should be recruited as students. Public schools should be bringing students in, not going after athletes."
Among the other topics discussed was the progress in working out the logistics when the OHSAA goes to seven divisions in football next season and amending the amount of time coaches can have working with their teams out of season.
Ross noted that the OHSAA receives no state funding and does not charge a membership fee to the 823 high school and around 830 junior high schools that are members. Eighty-five percent of the budget comes from state tournament ticket sales, with fees from officials and corporate sponsorship making up the rest of the budget
Ross thought the chance to get out and talk about current OHSAA topics with the public is a positive experience.
"I think they're valuable for a couple reasons," said Ross. "Number one, it's important for us to spend a lot of time out of the office, which I do, but it's also extremely important to provide information on topics on things they heard through the grapevine that may not be true. You can say, 'No, this is how this piece works."