Tuesday, September 18th, 2012
Grand Lake rivals finish in a scoreless tie
Two straight ties for winless Bulldogs
By Gary R. Rasberry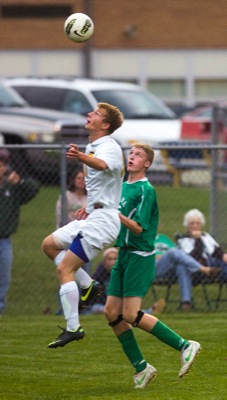 ST. MARYS - For 80 minutes, Celina's boys soccer team played their best defense of the season.
St. Marys outshot the Bulldogs 16-6 but could not get the ball into the back of the net as the Roughriders and Bulldogs played to a scoreless tie on Monday in Western Buckeye League action at West Elementary.
For Celina (0-6-3, 0-2-2 WBL), it was a second straight tie against an unbeaten opponent after tying Bluffton 3-3 on Saturday.
"That's our first shutout of the year," said Celina's coach Ryan Jenkins. "St. Marys had chances and put the pressure on, but fortunately, for us, they didn't get one. Both teams played extremely hard. It was a great soccer game."
The Roughriders (4-0-1, 2-0-1 WBL) had shots that went wide of the goal, over the goal, or in one instance, hit the top of the crossbar and ricocheted back into play. Celina's goalkeeper Lucas Warner made all six of his saves in the first half while Roughriders' keeper Luke Leffel did not have to make a save on any of the Bulldogs' six shot attempts.
St. Marys put on the pressure all game, but Celina's defense was up to the task.
"We tried to focus and not stab as much, to keep in front," said Jenkins. "To force them to try and pass it up. ... They had great looks. We were fortunate they didn't put one in."
"They didn't go in," said St. Marys' coach Dave Ring of the shots. "The headers were perfect and we had a guy beat front door and the shot hits the freaking post. Had another guy beat, took the shot and (hit a Celina) player down here. The opportunities were there. We dominated the opportunities to beat this team and didn't do it."
Celina had a couple of chances to score in the second half, the best coming when Leffel moved up toward midfield. The Bulldogs got a kick past Leffel, but it was wide of the goal.
"(Celina) came with a plan to tie us. Congratulations!" said Ring. "We have to finish the headers we missed.
"Effort was fine. Tactics were fine. Hats off to Celina. It's a rivalry game. You know they are going to come in and play with everything they've got. We're still unbeaten. We just didn't score the goals we needed for the W that we worked for," concluded Ring.
Celina won the junior varsity match 2-0.
Both teams are back in league action on Thursday. Celina is home to face Van Wert while St. Marys makes the trek north to face Defiance.